As we race from Halloween straight to Christmas, it seems more important than ever to pause, breathe, and notice all there is to be thankful for. This craft is fun to make with your children (extra kid points for paint on their hands!), but best of all it can sit on your dinner table, or other high-traffic spot, to encourage your family to remain grateful during this hectic season.
Supplies
Clean, empty glass jar with the label removed (spaghetti sauce or salsa jars work best)
Tissue paper in Fall colors (red, orange, brown, white, and yellow are good options)
White school glue
Paint or sponge brush
Bowl
Acrylic paint
Permanent marker
Twine or ribbon
Cardstock
Tealight or small votive candle
Directions
Mix equal parts glue and water in a bowl. You are aiming for a thin, runny glue mixture. Add a little more water if needed.
Apply the glue mixture to the outside of the jar and then cover with tissue paper. (To speed things up, I ripped the tissue into large squares ahead of time.) This is where it gets messy, so you may want to protect your tabletop. Keep working your way around the jar until it is completely covered. Overlapping and wrinkles are good!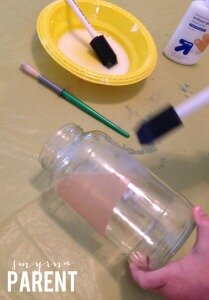 Set your jar aside on a piece of wax paper and let dry for an hour.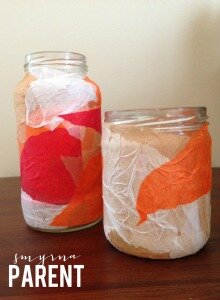 Once your jar is fully dry, it's time to decorate! Choose a color of paint for your child's hand print, keeping in mind a dark color will show up better on the jar. Apply paint directly to your child's hand and then press onto your tissue-covered jar.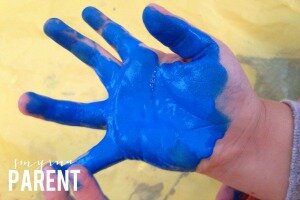 Once your handprint is dry, turn the jar around and use a permanent marker to write the things that your child is grateful for this Thanksgiving.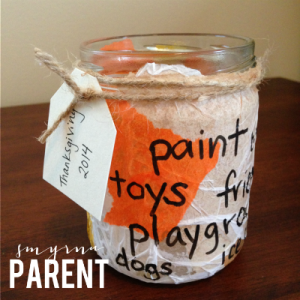 To finish off your candle holder, tie a piece of twine or ribbon around the top. Cut a small rectangle (about 1" x 2") of cardstock and slip onto the twine or ribbon and secure with a knot. You could further personalize your candle holder by writing your child's name and the year on the cardstock, or simply "Happy Thanksgiving" with permanent marker.
Place your tealight or votive in and enjoy! Or, keep some small scraps of paper and a pen nearby and use it as a drop box for small notes of gratitude throughout the season.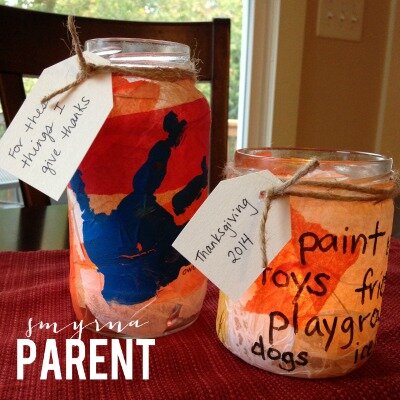 We hope you enjoy this project with your family! Share a photo of your final project with us on our Facebook page. Happy Thanksgiving!
Latest posts by Jenn P
(see all)
The following two tabs change content below. A New Orleans girl turned Georgia peach and stay at home mom to 2 daughters. Before taking the leap into full time mothering, I worked at at an Atlanta-based advertising agency. I have lived in Smyrna for almost 10 years and am still not sure how I managed to find a job more chaotic and unpredictable than advertising.