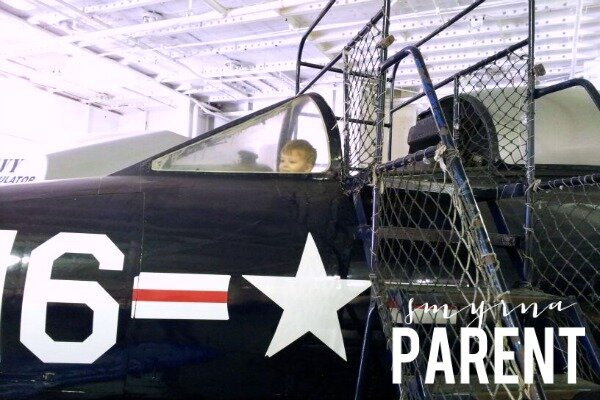 If you're looking for a vacation spot with something to interest both the kids and the adults, Charleston SC is a great place to visit! We recently took a Charleston family trip that went quite smoothly, considering we had a newly "potty-trained" 2yr old and a bottle-refusing 8 month old in tow.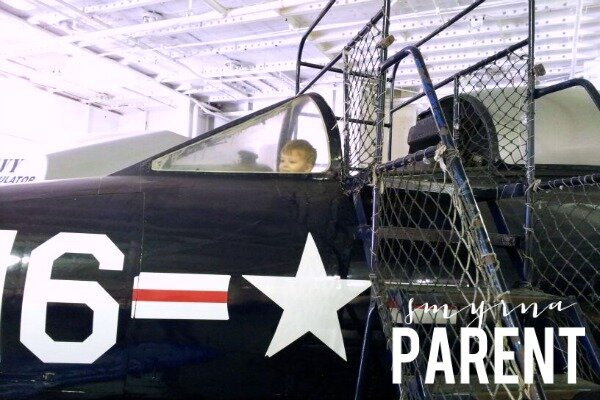 Roughly 5 hours from Atlanta, Charleston is a pretty easy drive if you leave after dinner and let the kids sleep in the car. We like to stay at Country Inn & Suites. It is a few miles from downtown Charleston, but they offer suites where our toddler can sleep in the living area in a pack n' play provided and the rest of us stay in the bedroom. The best parts are the refrigerator, microwave, and free hot breakfast complete with skim or whole milk for the little ones; very family friendly. We leave for the city after breakfast and drive slowly to give the baby enough time to take his morning nap, this always works perfectly.
Once downtown, the key attraction for everyone was Patriots Point, which is located across the harbor in Mt. Pleasant. We drove as it was a bit rainy, but it would be really fun to take the water taxi across the harbor, which docks right at Patriots Point. Parking was $5 and admission was $18 per adult (6 and under are free). Both costs are good for the whole day, so you are free to come and go if you like. We spent hours here. There is the USS Yorktown with open access to the living quarters, the hangar, and the deck with 20 or so aircraft to touch and even some you can climb up and sit in. This ship also houses a nice museum, café, bathrooms, and is stroller friendly! There is also the naval submarine USS Clamagore, which was quite an experience, especially if you are at all claustrophobic! You get to walk through the super tight halls and jump through super short doorways. How sailors were able to live here for months at a time I have no idea, but I'm thankful they did! There is another ship, the USS Laffey, but we skipped this one because we spent so much time on the Yorktown we were all shipped out.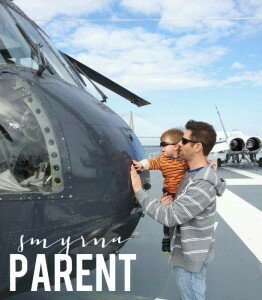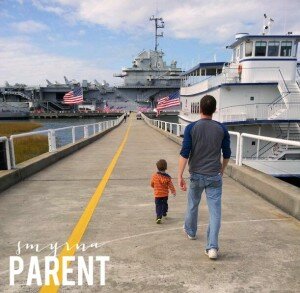 We headed just down the road for lunch; Locklear's Lowcountry Grill was affordable and had a good kids menu and great service. Afternoon naps were once again in the car and the evening was spent at the mall across from our hotel. Not exciting, but malls are always a good place to let the kids run around, take bathroom breaks, eat dinner, and take late naps in the stroller if needed.
I read that Charleston has a great children's museum, so we decided to check it out the next day and it was great. The Children's Museum of the Lowcountry is $10 per kid and adult and has seven or so rooms including a complete faux grocery store that was adorable, a water room, art room, and lots of other fun stuff. Our oldest could have stayed here all day, and it all looked really fun to me too. I would say this is geared toward younger kids, probably 6 and under. The afternoon was spent eating ice cream and walking around the city admiring the architecture, taking extra time at Battery Park to climb on all the cannons and cannonball displays (you know, the ones with the "no climbing" signs). I know the kids would have loved the straw market and a family horse-drawn carriage tour but we just didn't have time. We would also have liked to visit nearby Folly Beach but the November weather would not allow it.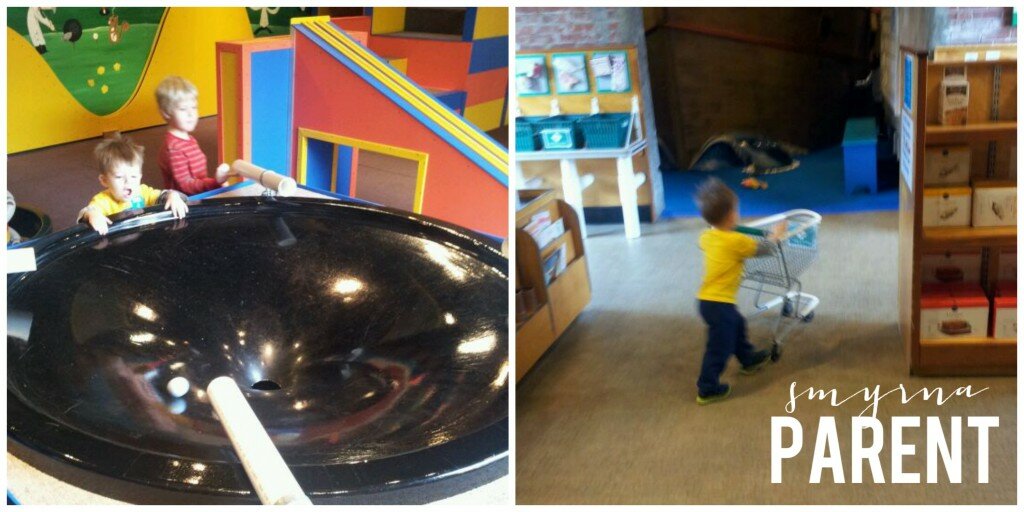 Our trip ended the next day and we left at naptime, so once again the little ones slept for a few hours during the drive home. We had a memorable time and are ready to go back soon, perhaps when the weather is warmer, for more low country fun!
The following two tabs change content below. A New Orleans girl turned Georgia peach and stay at home mom to 2 daughters. Before taking the leap into full time mothering, I worked at at an Atlanta-based advertising agency. I have lived in Smyrna for almost 10 years and am still not sure how I managed to find a job more chaotic and unpredictable than advertising.