We've all heard it before…"the arts are important for children"…but why? Research has found that active music making can lead to increased language development, math skills, good grades, better-adjusted school behavior and problem solving. While it is great to have scientific evidence proving that children who are exposed to music, dance and other art forms end up fabulous adults, sometimes that clouds the fact that while you have 18 years to expose your child to different art forms, it is the early years that can be the most crucial for their development. And while it may be fun to think about how your child may turn out because of those baby music classes or guitar lessons, it's the most exciting to see the short term differences it can make, for me at least.
Short & long term reasons the arts are important for children:
-Confidence. Confidence. Confidence. Creative arts are nonjudgmental. There is not a right or wrong way to listen or dance to music, it is what it is. Hearing familiar tunes, learning words, and making up groovy moves is a sure way to fire up the imagination and in doing so, boost confidence.
-Body Control. Music and dancing help with learning about rhythm, developing motor control and hand eye coordination, balance, keeping active, and what I like to refer to as "getting the wiggles out." Some music even gives kids a fun way to learn about different body parts, days of the week, and patterns.
-Imagination. All forms of music, dance, and art encourage imagination, something that isn't as easy to come by as it was 10 or 15 years ago. While screen time can have some valuable and educational skills, it almost completely lacks any use of imagination. Imagination builds confidence, social skills, and keeps creativity alive. While it shouldn't be a competition, nowadays creative activities are forced to compete with toys that do not require imagination.
-And all the things scientists say. Love for music. Math Skills. Reading Skills. Listening Skills. Stress Reduction. Language Development. Problem Solving. Good Grades. Social Skills. Good Behavior. And More! There are a million and one reasons why doctors and scientists say that the arts are important for children. Google it to find some interesting studies that explain the correlation between music making and the deepest inner workings of the human brain. It's fascinating. Again, I'm a can I see it now? kind of person and while I know those are facts, what I love most is watching that happen. While the arts develop lasting effects on humans, all of the tiny special moments that happen to create that fabulous adult are by far my favorite.
As a Smyrna Parent Blog contributor, I try pretty hard to keep my work out of my posts. I wasn't going to mention it in this post either, but I just can't talk about why the arts are important and not mention it. Sorry in advance! Arts for kids, specifically young children, is something I am so incredibly passionate about. In working with mostly older kids during my early years of teaching I began to see what a huge difference it made in my tiniest of students, who are typically left out of "performing arts" because they are too rambunctious, can't read, or focus. Not true! Ok, maybe they can't read yet and can be pretty rambunctious…but they can focus, work (and play) hard and do whatever they set their mind to! So I created Jitterbug Performing Arts, a place where all programing is imagination based and the primary goal is confidence for all ages. If I have learned one thing it is that children, specifically the tiny ones, are vastly underestimated.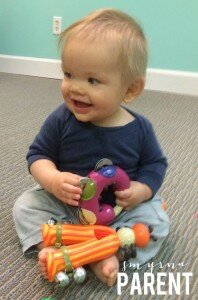 In my 10+ years of teaching I have taught many different kinds of students: kids that already love to perform and want to perfect certain skills, kids that may be a bit timid but end up with a newfound confidence, and kids who wouldn't leave mommy's legs, look someone in the eye, or who broke down at the thought of speaking in public. I have seen first hand how music, dance, art (or whatever creative activity gets them excited!) can give kids as young as 1 the confidence they need to overcome their fears, judgments, and be their own artist. Now, I'm not a scientist, but the changes I've personally seen in children can't be argued with.
Watching creativity help a child grow over the course of a couple classes or a year is one of the most rewarding experiences I have been fortunate enough to witness. Sometimes it's amazing what a little confidence does to a kid. One of the hardest lessons I've learned started when my son began showing interest in creative play. While I love to participate with him (and of course, he loves it too) he works better and is completely different with another teacher. Parents give their kids confidence every day, but sometimes it's that little extra that they need from other adults, teachers and friends that gives them what they need to stand on their own two feet…next to mommy instead of behind.
In those years of teaching and my short time of being a mommy I learn something new about the child mind every day. They understand a lot more than they can communicate back to us; and in my experience, music is a language they speak pretty well. So turn on some Beethoven, Jazz, or even Frozen and boogie down, make an instrument, or draw self portraits with your little one…let's keep imagination alive!
Latest posts by Lindsay
(see all)
The following two tabs change content below. A New Orleans girl turned Georgia peach and stay at home mom to 2 daughters. Before taking the leap into full time mothering, I worked at at an Atlanta-based advertising agency. I have lived in Smyrna for almost 10 years and am still not sure how I managed to find a job more chaotic and unpredictable than advertising.