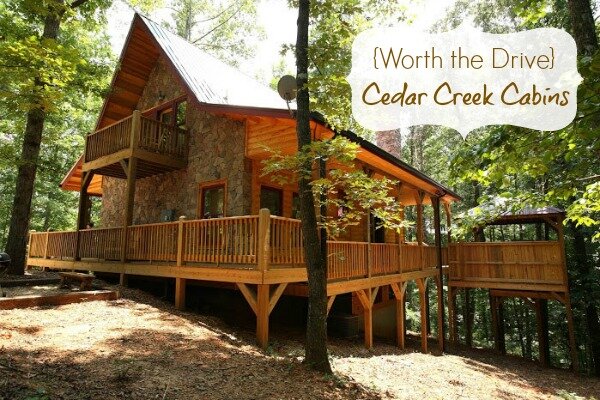 One of the wonderful things about Georgia is the variety of great places it offers for visiting. Whether you have a week available for vacation, or just a weekend away, there's a getaway option for everyone. My absolute favorite area of this state to visit is the North Georgia Mountains. They have it all up there — beautiful scenery, which is perfect for relaxing, tons of nature activities to get some fresh air and exercising in, unique shopping, good food, and a multitude of family-friendly activities! There are 50 different cities in the North Georgia Mountain Region, including one of the most popular cities, Helen.
Cedar Creek Cabins recently sponsored a trip to that area for my family. We had been to Helen before in warmer months, but not yet in the colder months. We had a magical weekend away, and loved getting to explore the area more and spend some quality time with each other.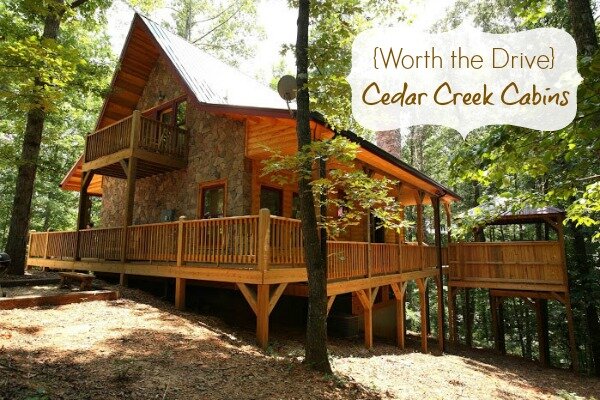 If you were going to visit the mountains, wouldn't you rather stay in a mountain cabin to make for a more authentic and well-rounded mountain experience, over your usual hotel? I would! A cabin is an even more perfect choice for a family, since they have multiple rooms, living spaces, a kitchen, and other amenities on the property. Cedar Creek Cabins offers over 40 cabins in and around Helen (from right there to up to 25 miles away), with options to fit every want or need. You can search for cabins that are pet friendly, biker friendly, or handicap accessible. You can search for ones that offer a creek, waterfall, or mountain view. And you can also search by the number of bedrooms, by the type of included gaming table (pool or foosball), or by the type of tub (hot or Jacuzzi). We stayed the night in one of their one-bedroom cabins just outside of Cleveland and Sautee Nacoochee, but I've made a mental note to book one of their larger cabins in the future for a trip with friends or for a family reunion! (P.S.- We actually had our wedding in a mountain cabin, and have attended other weddings in cabins before as well- they are a perfect location option for small, private weddings too.)
Our cabin was what you should expect- clean and comfortable, with an inviting "modern luxury rustic" atmosphere. I've stayed with multiple cabin companies before, but this one offered a few additional perks that I haven't seen before. Check-in and checkout procedures were a breeze! They sent me an email ahead of time with all of the information I needed to know, including directions to our cabin, and codes to get in. We never had to step foot into a hotel lobby and deal with a front desk. This was an especially useful feature because we got into town late and had a sleeping baby in the car, and were able to go directly to where we'd be staying. Checkout the next morning was just as easy. We simply closed up the cabin and texted (yes, texted on my cell phone!) them that we were leaving. They also had solid security systems in place to ensure the safety of our belongings and our persons. We had to enter a code to drive though a gate, then enter a code to open the lock box to get the cabin key, and then enter an alarm code to get into the cabin. That was another feature that came in handy and made us feel very safe arriving at a late hour.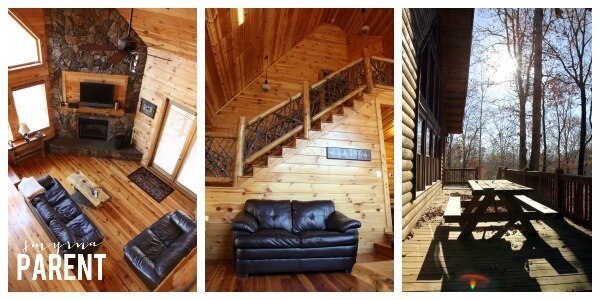 One of my favorite things about choosing a cabin for our lodging is the peace and quiet surrounding it. Coming from a bustling city area like Greater Atlanta, I want a place that is quiet and peaceful, and unlike any experience I can get in the city. The night sky is also so clean, clear, and beautiful out there- no light pollution or smog. You can actually see all of the stars and constellations, and it provides an excellent opportunity to teach your kid(s) a little bit about the night sky.
Now, on to the family-friendly activities! Helen has SO much to offer families — beautiful architecture, fun activities, delicious food, nature trails, and unique shopping to name a few. There's tubing in the summer months, fishing, gem mining, miniature golf, wineries, carriage rides, Anna Ruby Falls, Charlemagne's Kingdom (an alpine model railroad display), horseback riding, zip lining, and even a tarantula museum. If you know anything Helen, you're probably familiar with their Oktoberfest celebrations. Did you also know that they deck the city out in Christmas displays around the holidays? Decorations and lights line the main strip, and holiday events fill the city's calendar.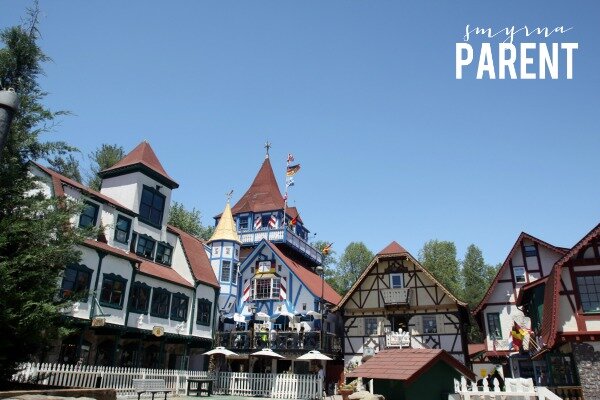 We started our morning off making a stop in-between our cabin and downtown Helen to get coffee from JumpinGoat Coffee Roasters. I love a locally roasted bean, and this place was small, quaint, and smelled great! My daughter loved the stuffed goat outside, and after stopping to "pet it" and for pictures, we ventured across the street for some antiquing. We then headed into town for breakfast, and spent quite some time walking around exploring and shopping. My husband bought some exotic animal jerky and imported chocolates. I let our daughter pick out a handmade wooden top from a little local toyshop. And I bought… desserts! One of the best muffins I've ever had? The Bavarian muffins from Hofer's. One of the best pieces of cheesecake/cake I've ever had? A slice of Sweet Potato Maple Cheesecake from Bohemian Bakery Café. Staying here longer than a day could prove to be very dangerous for me. To end the day, we took a carriage ride. I hadn't planned on doing that, but earlier in the day one of the carriage drivers gave my daughter a carrot to feed a horse. Well, from that point on she didn't stop talking about the horses all day, so clearly we know how that one worked out. But the ride ended up being pretty nice and a little experience enjoyed by us all.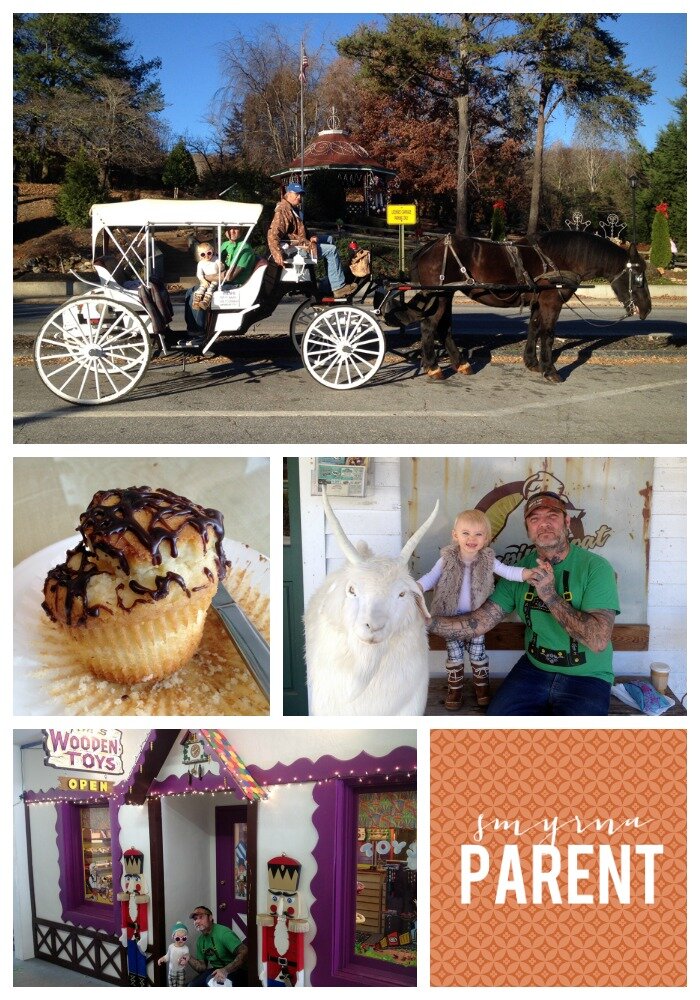 With lots of history, unique offerings, and a different aesthetic and cultural feel to the city of Helen and the surrounding North Georgia Mountain area, I highly recommend taking a trip that way and checking it out for yourself. Whether you choose to relax or pack your day with activities, eat yourself silly or use the opportunity to teach your child a cultural lesson, there's something for everyone there.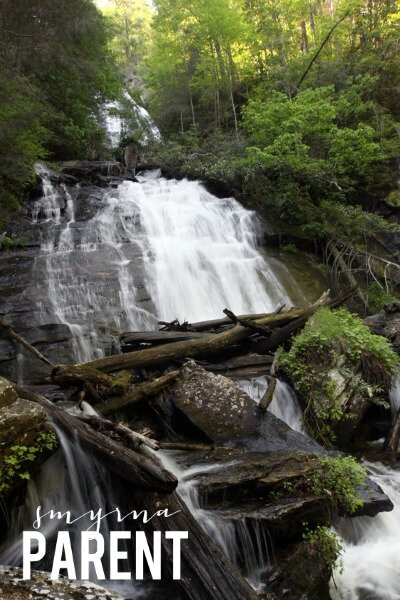 To read more about North Georgia Mountain attractions, check out other Smyrna Parent articles on: U-Pick Apple Orchards, The Blue Ridge Scenic Railway Santa Express, and The North GA Zoo. Also visit the BlondeShot Creative blog for more N. GA Mountain region fun!
Jenn Fletcher grew up in North Carolina and has been a Georgia resident since 2002, currently living in Cobb County with her family. She is a mother, portrait photographer, and also runs a local parent and kiddo group called Anklebiter Adventures.
The following two tabs change content below. A New Orleans girl turned Georgia peach and stay at home mom to 2 daughters. Before taking the leap into full time mothering, I worked at at an Atlanta-based advertising agency. I have lived in Smyrna for almost 10 years and am still not sure how I managed to find a job more chaotic and unpredictable than advertising.