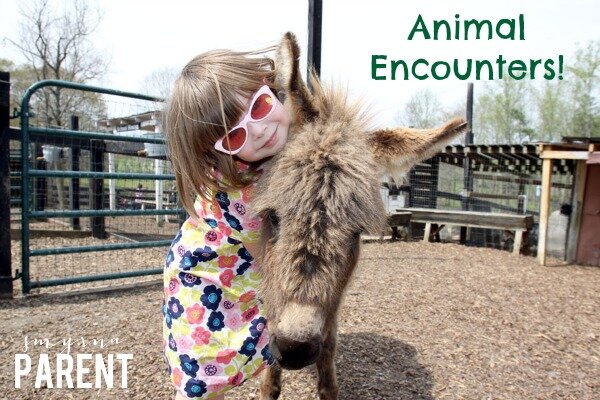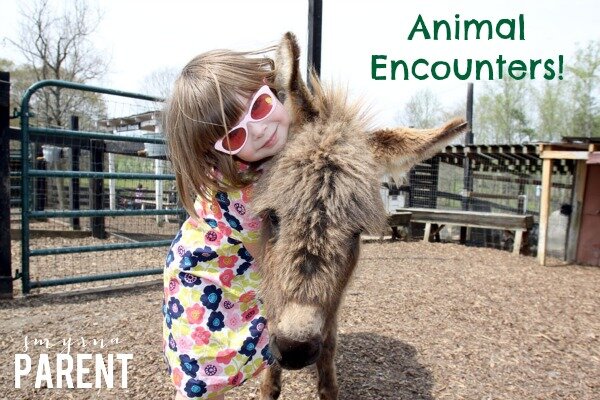 I'm pretty sure anyone that lives in the general Atlanta area and has kids is familiar with the zoo and the aquarium. But did you know that there are other awesome animal encounters within a few hours drive?
Let's start closest to home (drive times are estimated from the center of Smyrna)…
The Yellow River Game Ranch is about a 45-minute drive and is located in Lilburn, GA (not far from Stone Mountain). Here, you can get up close with deer, bunnies, peacocks, and more. You can pet and feed different wildlife animals, while walking along a mile long wooded trail. Admission ranges from $7-$8/person, with children under two being one free per paying adult.
Tanglewood Farm isn't your typical farm. Located only 55 minutes away in Canton, this farm is home to miniature farm animals! Miniature pygmy goats, cows, alpacas, turkeys, babydoll sheep, horses, and donkeys will come right up and say hello when you're in the pens with them. You can pet, feed (some), and brush them. There are always lots of babies running around too, especially in the spring. Have you ever hugged a dwarf goat? You can here! Admission is $10/person, children under one are free. Feed buckets (if available) are extra.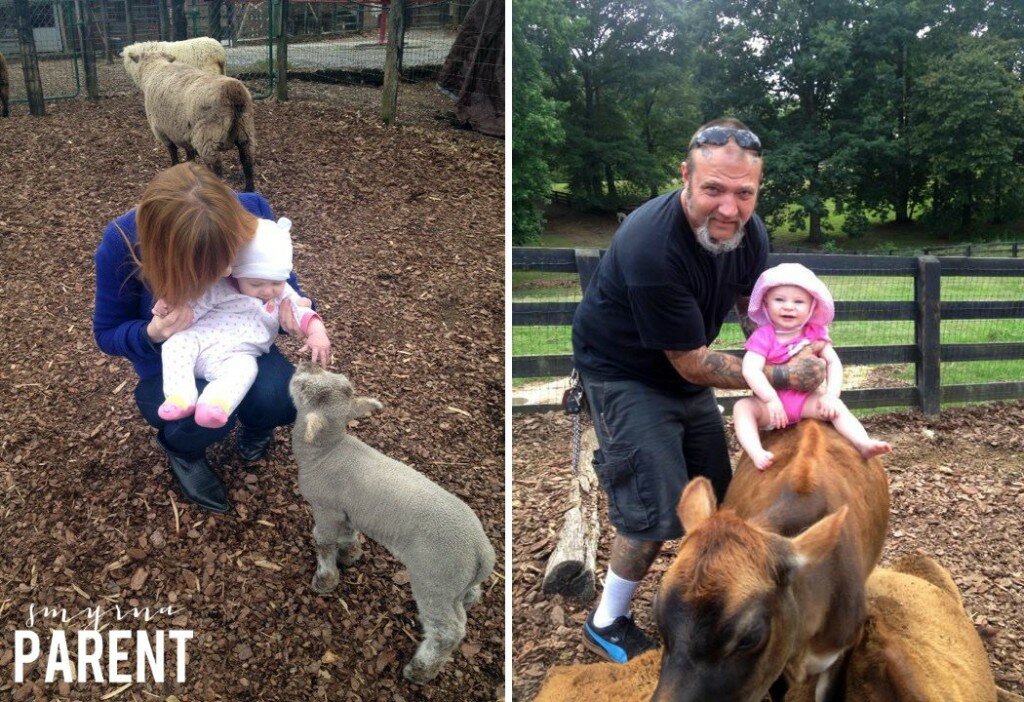 Wild Animal Safari in Pine Mountain is even more unique, and is about an hour and a half away. While they do have a small zoo section, the stand out attraction is the Drive-Thru Animal Park. You can either drive your own car through, rent one of their vans, or hop on one of their tour buses. The drive-thru is a few miles long, and you'll come nose to nose with a giraffe, bison, antelope, camel, water buffalo, wildebeest, and more. Some of these animals are so friendly that they will actually stick their heads (or tongues) inside your car windows if they're open. This can be fun, hilarious, and quite slobbery. Admission ranges from $16-$22/person, children under two are free. Animal feed is extra, but well worth it!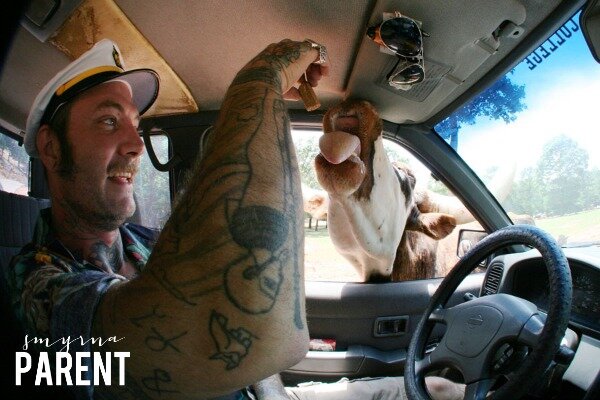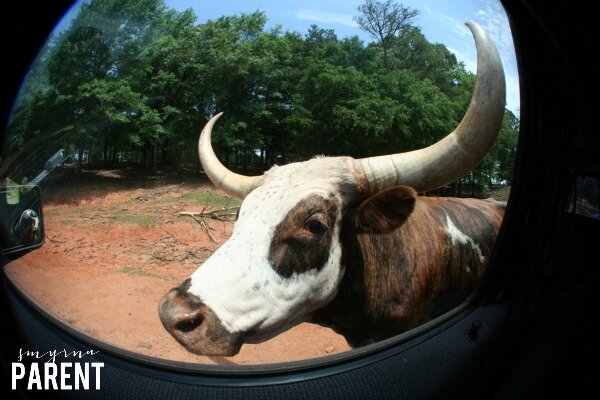 The North Georgia Zoo in Cleveland is nothing like Atlanta's Zoo. Located about 1 hour and 40 minutes away, this zoo combines a small zoo, a (petting) farm, and exotic animal encounters. The animal encounters here are really special… you get designated one-on-one time with the animal of your choice in an enclosed space. You get to pet, hold, and play with the chosen animal and it is SO much fun. Some of the animals available for encounters are otters, a fennec fox, a baby kangaroo, a hedgehog, wolves, and monkeys, just to name a few. Be warned though, after an encounter you might leave part of your heart there with one of your new animal friends. Prices vary greatly depending on which options you choose and start at $6, going all the way up to $75. Children under two are free.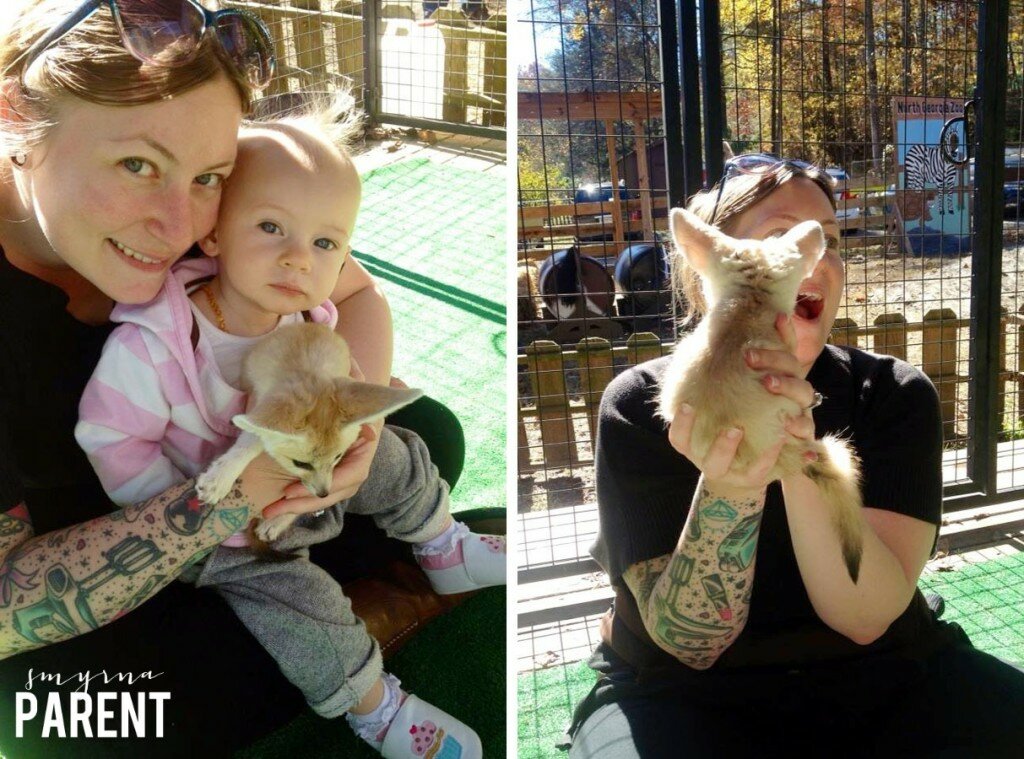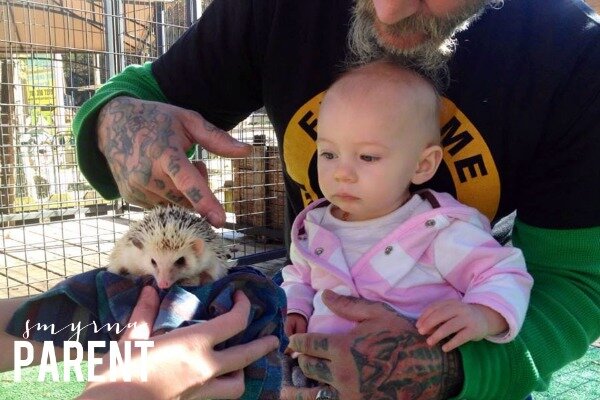 Regardless of which adventure suits your fancy, there's a few tips to keep in mind. When visiting any of these places, you'll want to remember to pack your sunscreen, water bottles, closed-toe shoes, hand sanitizer, and cameras! Some are more stroller accessible than others, and baby carriers are always a great idea if you have really young children. These adventures can be enjoyed by anyone at any age. While infants may not get a whole lot out of a visit at that age, I personally feel like every experience adds to their learning and development, even if they don't "get" the concepts yet. Plus, early introduction to animals can boost their immune systems. I started bringing my daughter to visit these locations starting at 5 months old. Just keep in mind that they will want to touch the animals and then put their hands in their mouths, so you'll want to pay close attention to that and keep some wipes or sanitizer on you. Also note that these are primarily outdoor destinations (no A.C.), and may not have luxury bathroom accommodations.
Bio: Jenn Fletcher is a mother, portrait photographer, and also runs a local Cobb County parent and kiddo group called Anklebiter Adventures.
Anklebiter Adventures is a free group that hosts local activities for parents and children ages birth to four years. They'll be taking a group field trip to visit Tanglewood Farm in early May, and would love for you to join them! Check out the group here.

The following two tabs change content below. A New Orleans girl turned Georgia peach and stay at home mom to 2 daughters. Before taking the leap into full time mothering, I worked at at an Atlanta-based advertising agency. I have lived in Smyrna for almost 10 years and am still not sure how I managed to find a job more chaotic and unpredictable than advertising.