I feel like being able to get a good workout in is way harder as a parent than it was pre-baby. Regardless of the reason (childcare, budget for a gym membership, clingy child, personal preference, or just shall we say overall tiredness), our bodies and minds still need a little exercise (you know, other than chasing and picking up little ones all day), and sometimes a little fresh air and adult conversation to boot. So, what are our local options for doing those things?
Of course there's the usual ways… take a walk or a jog with the stroller, or workout at home with hand weights and a video during naptime. That can get pretty boring pretty quick though. If you want to spice up these traditional ways, why not try doing it while wearing your baby in a carrier (p.s. even doing household chores while wearing your baby will help burn some extra calories). And instead of one of those typical workout videos, try Go-Go Robics! It's fun and full of silly and retro dance moves, and clearly not your typical workout.
Ok, so let's break out of our home routines and the neighborhood. There are multiple stroller fitness classes around the Greater Atlanta area so that you can get a workout in with other parents while your child rides in their stroller. Oh Baby! Fitness, Body by Baby Fitness, and Boot Camp In The Park all offer these classes. If you're looking for Mommy and Me Yoga, Oh Baby also has it (and Pilates), as does The Music Studio at Vinings. Most of the stroller and yoga classes are ongoing, so you'll need to sign up for a round of them.
Cobb County also offers different kinds of free fitness classes held at different parks around town. Visit Marietta Square during the week for lunchtime Yoga on The Square, or Swift- Cantrell Park in Kennesaw on a Saturday for a variety of outdoor workouts including Zumba and karate. These are not geared towards being "kid friendly", so either get a sitter, or take your chances on bringing them with you in either a stroller or a baby carrier.
If you like walking or jogging and own a jogging stroller, you could also head down to the Chattahoochee River and Walk With A Ranger. Or, check out any of these other stroller-friendly trails previously highlighted on Smyrna Parent.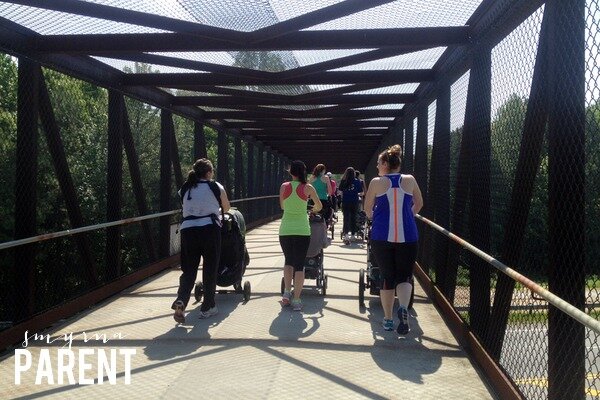 For some jumping fun, take the tots to Sky Zone's Toddler Time on Thursday mornings and jump along side them on giant trampolines (they also have SkyRobics classes if you find yourself kid-free).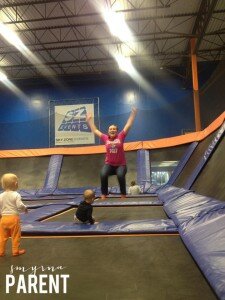 If you're looking to form some new friendships for yourself and your little one and looking for some unique fitness activities, then joining a local parent/kiddo group that hosts related activities can take care of both of those needs! C.O.B.B. Moms recently started a Mommy and Me Yoga class for their members that happens twice a month, and Anklebiter Adventures hosts a variety of weekly activities that fall into this category including group stroller walks and babywearing hikes, babywearing dance classes, and more!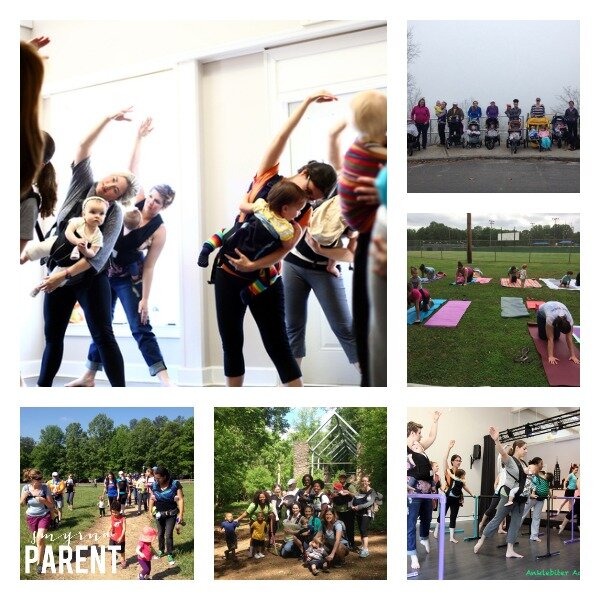 Now if you do get a little bit of alone time and want to also try something different in terms of traditional exercise, I also recommend a water aerobics class at one of the local aquatic centers. They have pretty strict rules about not letting babies or children join in (or even being in the pool at the same time), so you would have to go solo for this one, but it's worth a try if you get the opportunity. There are morning and evening ones available at multiple Cobb locations, and you can even choose from low-impact in the shallow end, to high-impact in the deep end. These classes generally have an older audience in them, but if you give it your all, I guarantee you'll still feel it the next day.
So have you tried any of these fitness activities with or without kids in tow? Do you have any other related activity ideas to add? Let us know how you like to get your workouts in while brining baby along!
[If you're unfamiliar with the term "babywearing" as we've mentioned in this article, check out Babywearing International (Atlanta chapter) for more info. and the calendar of their free local meetings.]
Jenn Fletcher is a mother, portrait photographer, and organizer for Anklebiter Adventures. She's also a member and volunteer for Babywearing International- Atlanta, and appreciates being able to wear her toddler while doing the things that need to be done.
The following two tabs change content below. A New Orleans girl turned Georgia peach and stay at home mom to 2 daughters. Before taking the leap into full time mothering, I worked at at an Atlanta-based advertising agency. I have lived in Smyrna for almost 10 years and am still not sure how I managed to find a job more chaotic and unpredictable than advertising.