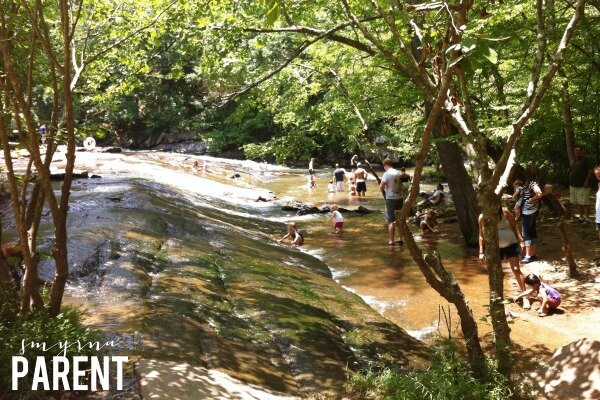 We first heard about Poole's Mill Park from Red Tricycle Atlanta's awesome post "Up The Creek: Where to Slip, Slide & Splash in Atlanta." We did a little more research on the listed locations and about 48 hours later, we were on our way to Poole's Mill Park to cool off in the shoals of Settendown Creek.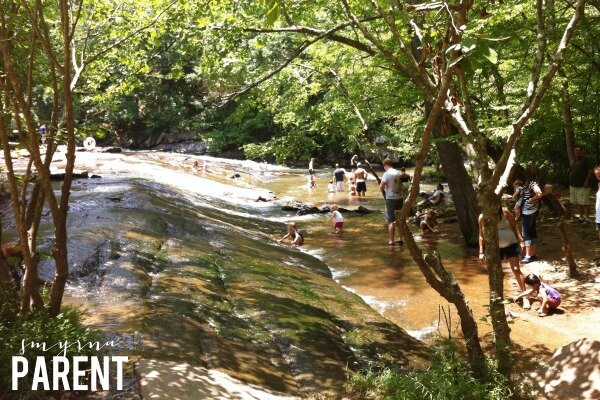 Poole's Mill is located in Cumming and we got there in just under an hour, taking 575. The major landmark in this 10 acre park is a covered bridge built in 1901, which has landed it on the National Historic Registry. The park also features a playground, a covered pavillion, walking paths, free parking and clean restrooms. However, it was the shoals, just downstream from the bridge, which provided the main highlight of the day. The creek spills over smooth rock, creating natural slides for the kids — and adults. This part of the creek is wide and shallow, making it perfect for very young children. Upstream (on the other side of the bridge) the creek is deeper for those wanting more of a swim or to do a little fishing.

We sent up camp under the shade of the trees and turned a tree stump and fallen tree into a bench and a table. The area nearest to us was only ankle deep, so it was perfect for our newly-walking 1 year old to play, splash and collect (eat) rocks. The far side of the creek had slightly deeper water which was great for the older kids who brought tubes and other floating toys. We easily adjusted to the cool water and explored the shoals with our preschooler, who had a blast on the rocks. I wore flip flops, but recommend water shoes since I had to chase down a flip flop more than once.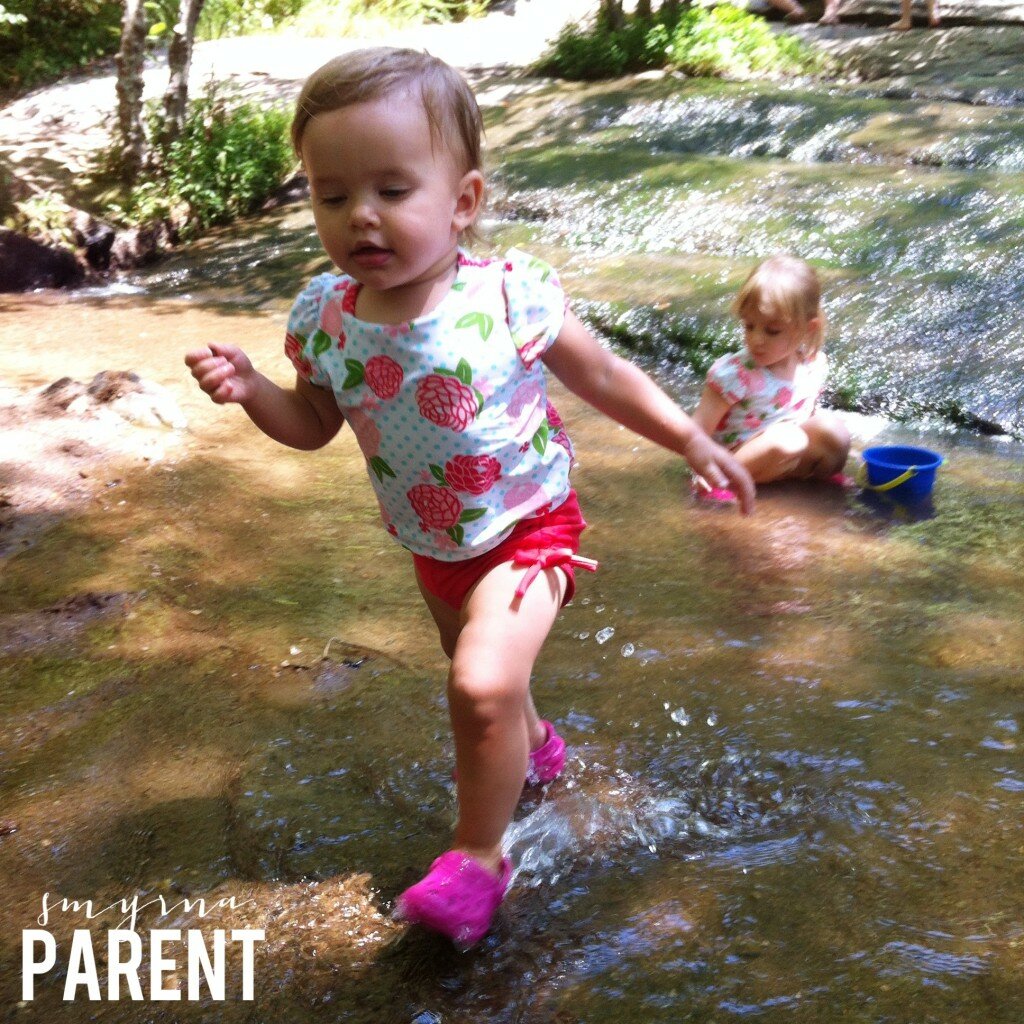 After working up an appetite, we had our picnic lunch at the edge of the creek and then played on the playground for a while. We left with two exhausted, but happy girls.
Poole's Mill Park is at 7725 Pooles Mill Rd. Cumming, GA 30040. Our GPS took us slightly past the parking lot, but once we realized the error, it was very easy to find. Parking is free and restrooms are in the pavillion near the parking lot. If you're thinking about visiting, don't forget to pack water shoes, sunscreen, bug spray, a picnic lunch and your camera. If you visit, leave a comment and let us know what you thought!
The following two tabs change content below. A New Orleans girl turned Georgia peach and stay at home mom to 2 daughters. Before taking the leap into full time mothering, I worked at at an Atlanta-based advertising agency. I have lived in Smyrna for almost 10 years and am still not sure how I managed to find a job more chaotic and unpredictable than advertising.