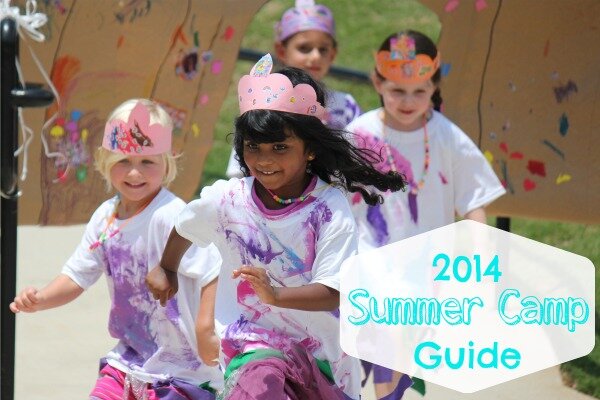 Please note that this is the 2014 listing. The current listing is here!
Traditional
City of Smyrna Summer Day Camp. Smyrna. Games, crafts, sports, walking field trips, theme days and more. Join us for every week, or just one. Camp runs from 7:30 – 4:30 with extended camp until 5:30.

YMCA Summer Camp Programs. Buckhead, Marietta, Kennesaw. Summer camp is about learning skills, developing character and making friends. But few environments are as special as day camp, where kids become a community as they learn both how to be more independent and how to contribute to a group as they engage in physical, social and educational activities. YMCA summer camp teaches self-reliance, a love for nature and the outdoors, and the development of attitudes and practices that build character and leadership. There are several YMCA locations in our area, including Buckhead, Northeast Cobb (Marietta), and Northwest Cobb (Kennesaw).
St. Benedict's Episcopal Day School. Smyrna. The Summer Camp Program at St. Benedict's Episcopal Day School offers a full variety of wonderful camp themes for all ages. In our preschool camps (students three years of age through rising Kindergarten) we offer theme-based day camps including playball, ballet, drama, Abrakadoodle Art, science and soccer as well as a Spanish-language based cooking class. For our elementary students (rising first grade through seventh grade) we also have theme-based day camps. In addition this year we are bringing Big Science Thinkers Robotics, Ultra Sports and Games, Library themed camps, Drama, Hip Hop, Soccer, Basketball, Abrakadoodle Art and much, much more! Who knows, your child may be visited by the Grinch, Harry Potter or Charlie and the Chocolate Factory. Early morning and afternoon extended camp care is also available.
Performing Arts
Jitterbug Performing Arts. Smyrna. Camp hours: 9am – 1pm with extended day available until 4pm. Ages: Potty trained – 8 years old. Send your Jitterbug to us for a Summer full of singing, dancing, acting, games, crafts, puppetry & more! Each theme is filled with a variety of unique and different activities. Weekly themes include: Princes, Princesses & Fairy Tales, Shiver Me Timbers, Rock Stars, Ocean Explorers and many more. Campers work to put together a show in just one week– learning songs, dances, working on projection and stage presence, making costumes, props and scenery in preparation for the show at the end of each week!
The Studio Atlanta Dance. Vinings. Whether your child is new to dance, or a Studio Atlanta regular, they'll enjoy these summer camps combining dance, art and fitness. Many of these camps include a partnership with Vinings School of Art for dream partnership. Camps include: Kindercamp (2.5 – 3 years), Princess Camp (several sessions, 3-4 years), Snow Queen Camp – Frozen (5-7 years), Dance and Art Camp (3+), Let's Dance (6-10 years), and Shake It Ups (5-8 years).
Art
Marietta/Cobb Museum of Art. Marietta. MCMA offers several themed camps that are divided into lower camp (5-7 years old) and upper camp (8-12 years old). Tuition includes all supplies and instruction on variety of art making methods (taught by state-certified teachers), including drawing, painting, printmaking, mixed media projects, ceramics, and more. Themes include: Inventors Workshop (Mini Camp), Time Travelers, Recycle It!, & Rainforest Adventure. Camp scholarships are available.
Vinings School of Art. Vinings. Camps allow children to explore the fine arts: painting, sculpture-making, clay, drawing and include daily fitness programs. Morning only and full day camps available. Camps are divided by age: 5-6, 7-9, 10-14. Extended day and early drop off options available. Themes include: Art + Movement, Art only, & Spanish crafts, cooking and culture.
Bounce U Create & Bounce Camp. Kennesaw. It's a complete workout for young artists. BounceU's Create and Bounce is a camp program for kids ages 5 – 11 that gives children a daily balance of playtime and artistic expression. Our carefully developed curriculum includes theme-based lesson in drawing, painting and sculpting using medium like oil and chalk pastels, watercolors, mixed media, and more. It's everything a young artist needs to grow.
Sports
i9 Sports Camps. Smyrna. Multi sports camp including academics and brain builders. Freshly prepared lunches included in tuition. Early drop off and extended day available. Five separate weeks available.
Moore's Martial Arts. Smyrna. Ages 4 – 12. We will incorporate discipline, self-control, fitness, balance, coordination, and a bully proof workshop. Campers will enjoy: Games, drills, activities, a snack, and a movie. You pack their lunch Monday – Thursday, Friday we will provide the pizza. Camp is from June 23- 27, 2014, 10:00am to 2:00pm.
Smyrna Cheer Academy. Smyrna. Ages 3 – 12. This new Smyrna business will be opening just in time for their summer camp which will be held every weekday between 7:30 a.m. and 6 p.m. The camp will focus on cheer, but will also feature visits to the library, a summer reading program, and cooking classes.
Cheer Your Heart Out GA. Smyrna. Ages 5 – 13. Three weeks available. If your daughter is already jumping and chanting around the living room, it's time to funnel her energy into cheerleading! During this fun-filled week of camp, children learn an array of things from cheering and dancing to stunting, team building activities and crafts. Your child will make life-long friends and memories, we encourage you to sign up for multiple weeks as each week is a new theme!
North Metro Martial Arts. Smyrna. Ages 6 – 12, including special needs. Daily activities include: Martial Arts Training, strength and conditioning, leadership training, bullying defense training, weapons training & life skills training.
Technology/Science
Club Scientific. Marietta. (Locations throughout Atlanta, scroll down in the link provided to see camps available at the 2 Marietta locations). We believe that every child is a scientist and that we can make children even better scientists! Club Scientific 2014 Summer Camps season will offer 24 summer day camps. All of our hands-on National Science Standard activities make science challenging and fun. Our camp directors are highly trained college graduates, assisted by currently enrolled college students that have been trained by Club Scientific.
Camp Invention. Marietta. (Locations throughout Atlanta, link goes to the Marietta camp.) At Camp Invention, children rotate through four fun modules a day, where they work in diverse teams to engage in investigations, experiments and engineering challenges. Our curriculum writers use rigorous testing each year to deliver new and exciting modules that meet national and state education standards while offering your child hands-on activities that make learning fun. The Marietta camp themes include Amplified, Super Go, Design Studio: Morphed, I Can Invent.
Bounce U's Robotics Camp. Kennesaw. Learn to design, build and program robots! Campers work both individually and in small teams using the LEGO® Mindstorms® Robotics Kit, and participate in the various challenges throughout the week. Our Technology Camp is a camp program for kids ages 5-12 that gives children a daily balance of playtime and imagination! It is both fun and educational! Camp at BounceU is a one-of-a-kind experience your child will never forget.
Riding
Jennifer L. Buck Stables. Marietta. More riding time and better, safer instruction than any other camp. Emphasis on summer fun, correct Hunt Seat riding, and making new friendships in a happy and safe environment. We only use show quality horses and ponies. We have something to fit every size of rider and will match up your child properly. Minimum age of 5 and max age of 17.

SoPhar Ranch. Powder Springs. Western, English,/Dressage and Jumping Camps available.
Specialty
Builder Bunch LEGO Summer Camp. Locations throughout Atlanta. (Smyrna, Marietta & Powder Springs locations shown in link provided.) Builder Bunch is Atlanta's premier camp for children who love to learn and play with LEGO® bricks. The daily schedule takes our campers through a combination of hands-on learning, team building and competitive sessions. Click the following link to see a sample daily schedule. Each week of Builder Bunch camp is totally different. Your child will learn a different set of skills and earn a different badge upon completing each of our camps.
Church Based
There are many, many church-based summer camps and Vacation Bible Schools available – so many that we could not attempt to list them all here! If you're interested in one for your child, you may want to start with our church-based PMO and Preschool listing here, since most, if not all, are offering summer programming for kids.
Would you like to get your camp listed here? Email Alicia at info@SmyrnaParent.com.
The following two tabs change content below. A New Orleans girl turned Georgia peach and stay at home mom to 2 daughters. Before taking the leap into full time mothering, I worked at at an Atlanta-based advertising agency. I have lived in Smyrna for almost 10 years and am still not sure how I managed to find a job more chaotic and unpredictable than advertising.