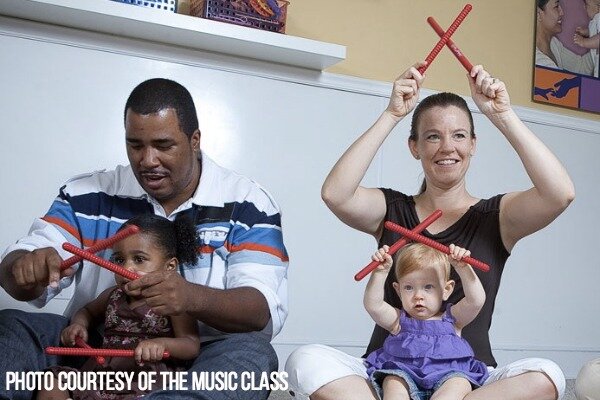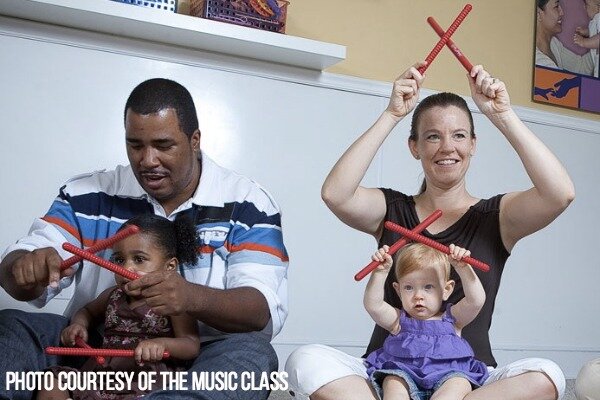 Our sponsors at The Music Class produced the following article for educators who use their music program in a school setting. The advice and techniques apply to parents at home as well, so I'm thrilled to be able to pass this on to you. Whether you're trying to enhance an existing music & movement class or incorporate some home learning into your daily schedule, this will help you bring the joy of music and dance to your children.
_________________________________
How do we learn best? For children as well as adults, it's easiest to learn new things when they relate directly to something in our lives. For example, how much did you know about raising children before you had your own? Chances are you've learned quite a lot since becoming a parent! We tend to be great learners when what we're learning is meaningful to us.
In educational jargon, we call this concept "meaningful context". It's one of the basic strategies teachers use to motivate students to learn. Try to remember a teacher you loved who made the subject matter "come alive". That teacher probably did something to make the topic meaningful to you, knowing that if you found a personal connection to the material you would be naturally inclined to learn more about it.
The same idea applies to learning music. Young children don't start out with enough familiarity with music to be able to find special meaning in the melody, harmony or meter used in a song. But if you sing a song about their best friends, a favorite animal, or special events in their lives, they will quickly "tune in" to the music and want more! Each time you repeat a song about something they like – for example, a little dog, they will hear the notes and rhythms in the song and through repetition will effortlessly learn those musical sounds.
Listen here to our song "Littlest Dog" for an example of this. (Copyright 2008, Robert Sayer)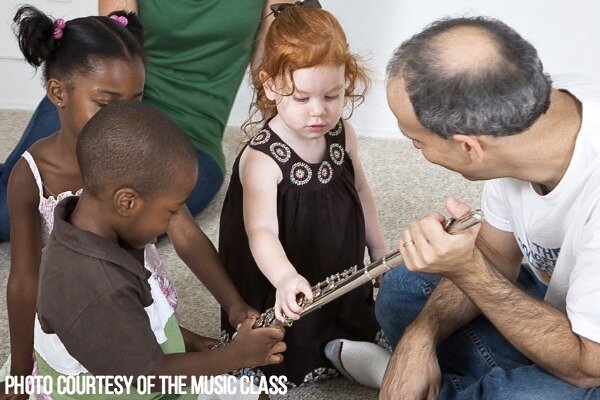 Using movement activities with music has the advantage of not only applying the "meaningful context" concept (we love to jump, twirl, and wiggle!) but it also capitalizes on movement as a way to learn. Physical movement relates to rhythmic feeling in music, and we retain information better when it is accompanied by movement. (Learning through movement is a whole other topic. For more on this, check out this resource on the mind-body link and how movement helps cognition.)
You can listen to our song "I Can March" for an example of this. (Copyright 2000, Robert Sayer)
Even better than leading a verse about something you think your child will enjoy, is to ask your child for his or her own idea. For example, when singing the Littlest Dog song, ask "What other animal can we sing about?" If you're doing a song with activities like I Can March ask "How else can we move?" Asking your child for suggestions not only encourages creative thinking, but it provides a deeply personal connection to the music, which is empowering and fun!
Of course, singing verses you've made up is very hard to do when the recorded music is playing and has different words. The simple solution is to turn the recording off! Don't worry about how good a singer you are. The recorded music provides a model of musical accuracy for your child. Listening to it some of the time is helpful, but there's no better musical role model for a young child than hearing their mom or dad sing. When you sing, you're encouraging your child to sing, and singing is a critical step in music development. Substituting your own ideas in a song requires that you turn the recording off, so listen to the recording to learn the song. Then once you're comfortable with it, turn the recording off and sing it a cappella!
Remember to consider the recorded version of a song as a musical starting point. Make the song come to life by adapting it any way that you like! When you do this, your child will naturally have a greater interest in the song because it will relate to him or her. Encourage your child to come up with new lyrics and movements. When you sing those ideas, you'll see an even greater engagement and excitement with the music.
Interested in experiencing The Music Class yourself? They are offering a free demo class on Friday, August 7 at 9:30am, so register before it fills up. The Smyrna location is conveniently located in the Williams Park neighborhood, which is across Atlanta Road from Smyrna Market Village. There are still openings for the fall session. You can learn more about the classes, view locations and check class availability here.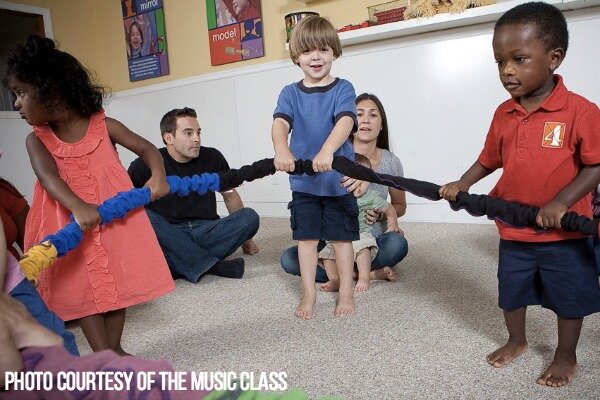 The following two tabs change content below. A New Orleans girl turned Georgia peach and stay at home mom to 2 daughters. Before taking the leap into full time mothering, I worked at at an Atlanta-based advertising agency. I have lived in Smyrna for almost 10 years and am still not sure how I managed to find a job more chaotic and unpredictable than advertising.