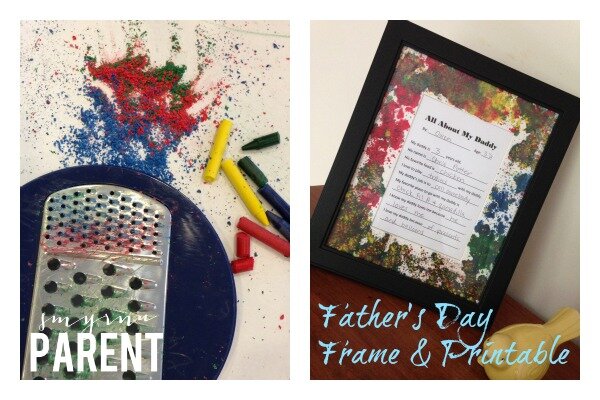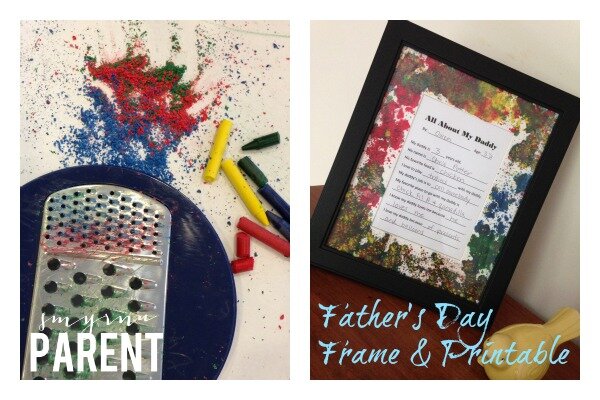 Happy Father's Day!
Children and crayons go together like cake and icing. If you're like me, your crayons seem to multiply over time. I thought we would put some of those extra crayons to use for a framed Father's Day project.
Items Needed:
– 4-6 crayons in a variety of colors
– 8×10 picture frame with a white mat already inside (a mat is the white board that surrounds your photo inside of a frame). The mat should surround an opening for a 5×7 photo. I found a frame with mat at a craft store for about $5, but you could also use one you already have at home.
– pencil sharpener or cheese grater
– iron
– wax paper
– old, thin t-shirt or cloth napkin (it may get melted crayon on it)
1. Protect your work area by covering it with newspaper or craft paper.
2. Grate your crayons into shavings that are separated by color (this will help avoid the drab brown color that occurs when every color blends together).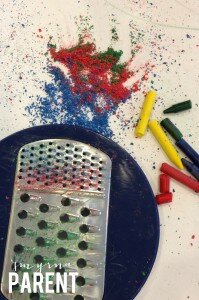 3. Sprinkle the crayon shavings all over the white mat. It is okay if some white shows through.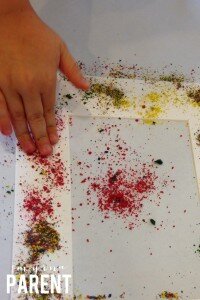 4. Cover your mat and shavings with a large piece of wax paper. Carefully lay your thin piece of cloth on top.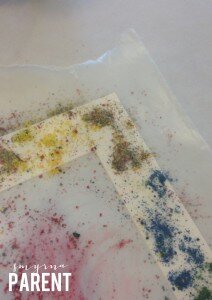 5. Press the cloth gently with a medium warm iron. Tap and press rather than sliding across the fabric. It doesn't take too long to melt the crayon – about 5-10 seconds.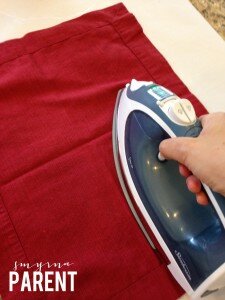 6. Peel away the wax paper from your mat and let it cool. Use your finger or a dull knife to shave away any melted crayon that is hanging off the edges of the mat.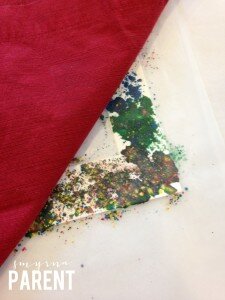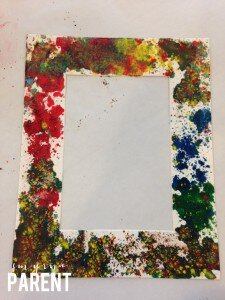 7. Complete the daddy questionnaire found here with your child(ren) and insert it into your frame along with the melted crayon mat.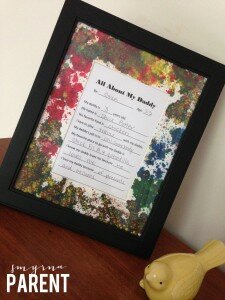 If you would like to make this gift for someone else (such as a grandfather, uncle, etc), there are many printables on the internet that you can download for free and complete.
Have fun!
The following two tabs change content below. A New Orleans girl turned Georgia peach and stay at home mom to 2 daughters. Before taking the leap into full time mothering, I worked at at an Atlanta-based advertising agency. I have lived in Smyrna for almost 10 years and am still not sure how I managed to find a job more chaotic and unpredictable than advertising.