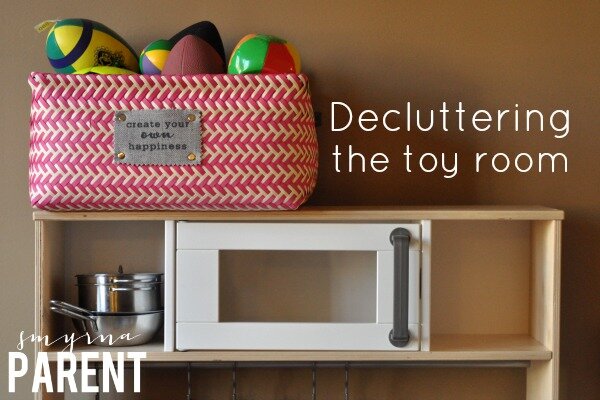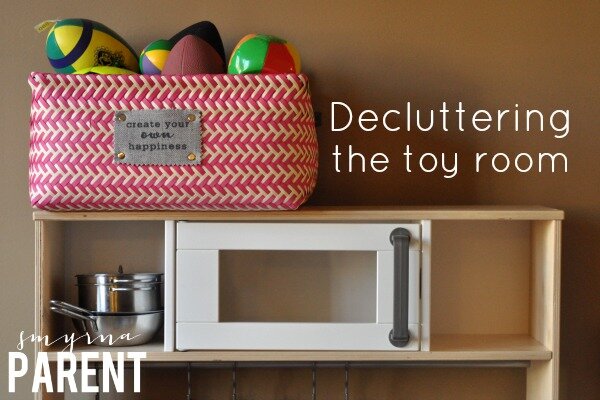 One day I imagine that I'll be rocking on my front porch, sipping a beverage while contemplating whether our current home is too large for empty nesters. But that day is not here yet. For now, we are living in our townhome – the one that we were supposed to have upgraded from four or five years ago right as the housing bubble burst. Things changed, we stayed, we had two kids. We do have enough space, but it requires constant attention, organizing, and reorganizing. Especially after Christmas and birthdays. Here are a few tips to keep the toys under control.
Give
Before attempting any organization, sort through everything and toss broken toys, or those that are missing enough pieces to make them unplayble. Then consider what your child has outgrown or groups of toys that can be culled (hello, stuffed animals) and toss them in a box for donation. Organizations like Goodwill and Red Cross make donating easy with plenty of convenient drops, but I know that many people prefer to get their donations directly into the hands of those who truly need them. If you feel this way, here is a great local alternative I've recently found:
Foster Care Support Foundation – From their website: "We serve a vital and growing need throughout the state of Georgia by providing FREE clothing, infant equipment and developmental toys to thousands of foster children in foster care. We also serve grandparents raising grandchildren and relatives caring for relative's children for a limited time." You can make donations at 115 Mansell Pl., Roswell, Georgia 30076
Rotate
Next, box up some of those toys – even the new ones! This is actually helpful even if you aren't limited on space – I've noticed that when there are too many toys out and it's chaotic, my daughter just dumps every single toy on the floor and then asks for a banana and an episode of Super Why. Fewer toys results in more actual playing, at least in our experience. Get some large storage bins and load them up with toys until the play area is manageable. Make sure you label what's in each one and then take them out to the garage, or attic, or storage closet. Then bring those toys back 3-4 weeks later and reload your bins with some of the older toys. If your child notices and asks for a certain toy, by all means, bring it back, but I've found that the novelty of the "new" toys is a big enough distraction – and it keeps the thrill of new toys for the kids week after week.
Think Vertical
Hanging shelves, hanging net storage for toys and balls, tall shelving units. When the floor starts to look a mess, look up.
Bins, Boxes and Baskets
Bins, boxes and baskets keep small pieces together and allow you to organize the play area into categories – ball basket, doll bin, train box, etc. It also makes it easy for even little kids to help clean up. They don't have to be boring plastic storage bins, either. I've been impressed with the very inexpensive but decorative options at stores like TJ Maxx and Marshalls.
How do you handle the post holiday clutter?
The following two tabs change content below. A New Orleans girl turned Georgia peach and stay at home mom to 2 daughters. Before taking the leap into full time mothering, I worked at at an Atlanta-based advertising agency. I have lived in Smyrna for almost 10 years and am still not sure how I managed to find a job more chaotic and unpredictable than advertising.