When a baby is born in America there is usually a lot of fuss. Showers or "sprinkles" have been thrown, registries registered and every need anticipated for the new addition. Then, after the baby arrives, there are "sip and sees," home visits, relatives who move in to help for a few weeks and definitely the digital, if not paper, birth announcement featuring the professional photographer photos to share. The overwhelming urge to share the news of a healthy baby being born and to get the votes from everyone you know about whether the baby has daddy's eyes or mommy's brow-line is one of life's pride-filled moments. Sadly, when your baby dies at almost 35 weeks gestation like mine, there are none of the usual festivities.
Even while my arms were empty, the overwhelming urge to parent was still there. For me this urge began when I realized I was pregnant; watching what I ate and taking good care of myself became a daily chore, and after my baby Emmy was born-still, I found myself concerned with her physical needs, even though my efforts weren't needed. I hadn't chosen a "take home" outfit yet, so when the nurse gave me a choice of outfits having just learned that I was carrying a girl, I chose the most beautiful yellow gown with ducks delicately sewn on the hem. It had a matching bonnet and I chose the most colorful blanket knitted by some lovely church volunteers who donate these things for such a sad time. The parenting urge was so strong. Her feet were cold. As a mama I should warm them. Still, her feet were cold. The worst moment of my life, second only to seeing her still heart on the ultrasound, was watching as she was wheeled out of my room. Sending her away with the nurse in her bassinet covered in her rainbow blanket, knowing that my heart wasn't cold, that it was beating and hers wasn't…the pain enveloped me.
I was going home to my little boy who was 18 months old. Just as before he needed our parenting, but when I arrived home the need to parent my baby girl was just as strong. It became apparent to me that there was only one way to handle this urge and that was to give into it. No one asked me, "Was it a boy or girl? What was her name? Let's see pictures!" So, at first I said her name — a lot. I said it to people even when it made them uncomfortable, to strangers, and to anyone who would listen. Just like other mothers, I have the most beautiful pictures of her that I am so grateful for, but I am very guarded with them. The need to share with the world was so great at first, I wanted to scream, "IT'S A GIRL!! HER NAME IS EMMY ROBIN, SHE HAS CURLY HAIR LIKE ME AND THE LONGEST FEET I'VE EVER SEEN, JUST LIKE HER DADDY! SHE LOOKS LIKE HER BIG BROTHER! I HAVE A BABY I WANT TO SHOW OFF TOO, BUT I CAN'T FOR FEAR THAT YOU WON'T BE ABLE TO SEE PAST—DEATH. BUT I SEE HER, MY BABY GIRL, OUR EMMY ROBIN!"
My husband and I have made it a point to parent her here on earth. We bought a stocking that matches our other children's and as to not see it empty, every Christmas we put a gift in it from Santa to our children saying that it is probably something Emmy would have given. We made an "Emmy Wall" with canvases of a word collage all about her and also Emmy's name written in the sand. We keep her ashes in a beautiful urn (with pink flowers, of course) in a pink, heart, crushed-velvet box and we display her picture proudly next to our other children's baby pictures on our mantel. On her first birthday in heaven, our family built a robin birdhouse together in which we have watched several bird families begin, and we planted a Kwanzan Cherry Tree that blooms with pink flowers close to her birthday. To make our "Emmy Day" a priority has been a promise I have made to myself. One year, we purchased a year-long membership to the zoo and spent the day there, and at Christmas we have sponsored a child or sent a gift box through Samaritan's Purse to another little girl who is the age that our Emmy would have been. We speak openly about her to our other children, making her as real to them as we can. We tell personal bedtime stories featuring them, always adding her to the story, beginning "There once was a brother and two sisters and they loved each other veeerrryyy much…" This year, on her fourth birthday, we all hiked Kennesaw Mountain and as we reached the summit, I felt a familiar urge. As my little family-minus-one stood in that spring sunset, I did yell, "EMMY ROBIN!!!"
Her name is music in my ears. It's all I have and I will parent her until I see her again. To make her a part of our family has been the solution to an impossible situation. How do you parent a child who is no longer on this earth? Keep them alive in your home and in your family's hearts.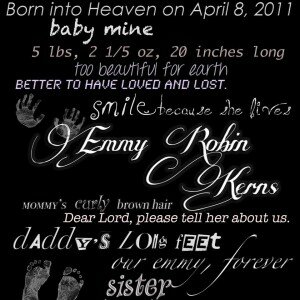 Britany Fisher-Kerns is a wife and mother to three beautiful children, two on earth and one in heaven. Wisconsin native, musician and teacher turned southward, living in Nashville, TN for 13 years until recently relocating to Georgia.
The following two tabs change content below. A New Orleans girl turned Georgia peach and stay at home mom to 2 daughters. Before taking the leap into full time mothering, I worked at at an Atlanta-based advertising agency. I have lived in Smyrna for almost 10 years and am still not sure how I managed to find a job more chaotic and unpredictable than advertising.