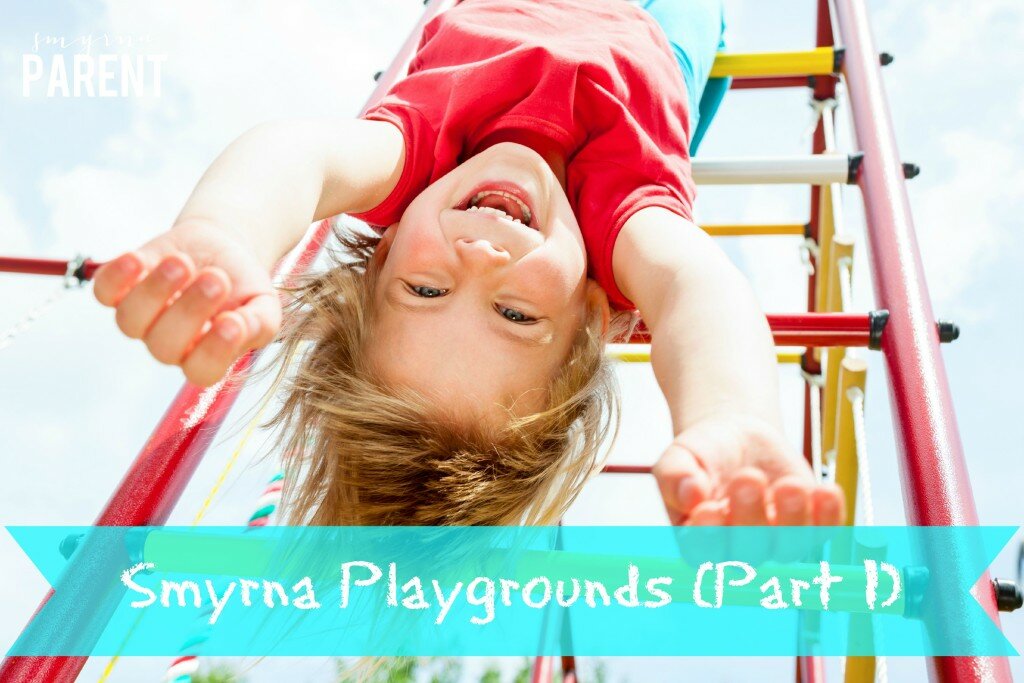 The City of Smyrna maintains 25 parks, 11 of which include playgrounds. Yet, like most parents, we have our favorites and rarely venture outside of the same 2-3 parks. However, sometimes you just want a play area with shade…or one that is fenced in for the runners…or one that is extremely close to the restroom for our potty training minions.
When I accidentally discovered a new playground recently, I realized it was clearly time for some hard hitting investigative reporting from Smyrna Parent! So here is Part I of a look at the playgrounds in our area — just in case you want to branch out. Luckily I have two little monkeys who are up for this daunting challenge. Part II will look at the rest of the Smyrna Parks & the Cobb County maintained parks in Smyrna and then we'll move on to Marietta with the help of some other contributors. We take our playground research seriously around here!
Best All Around: Cobb Park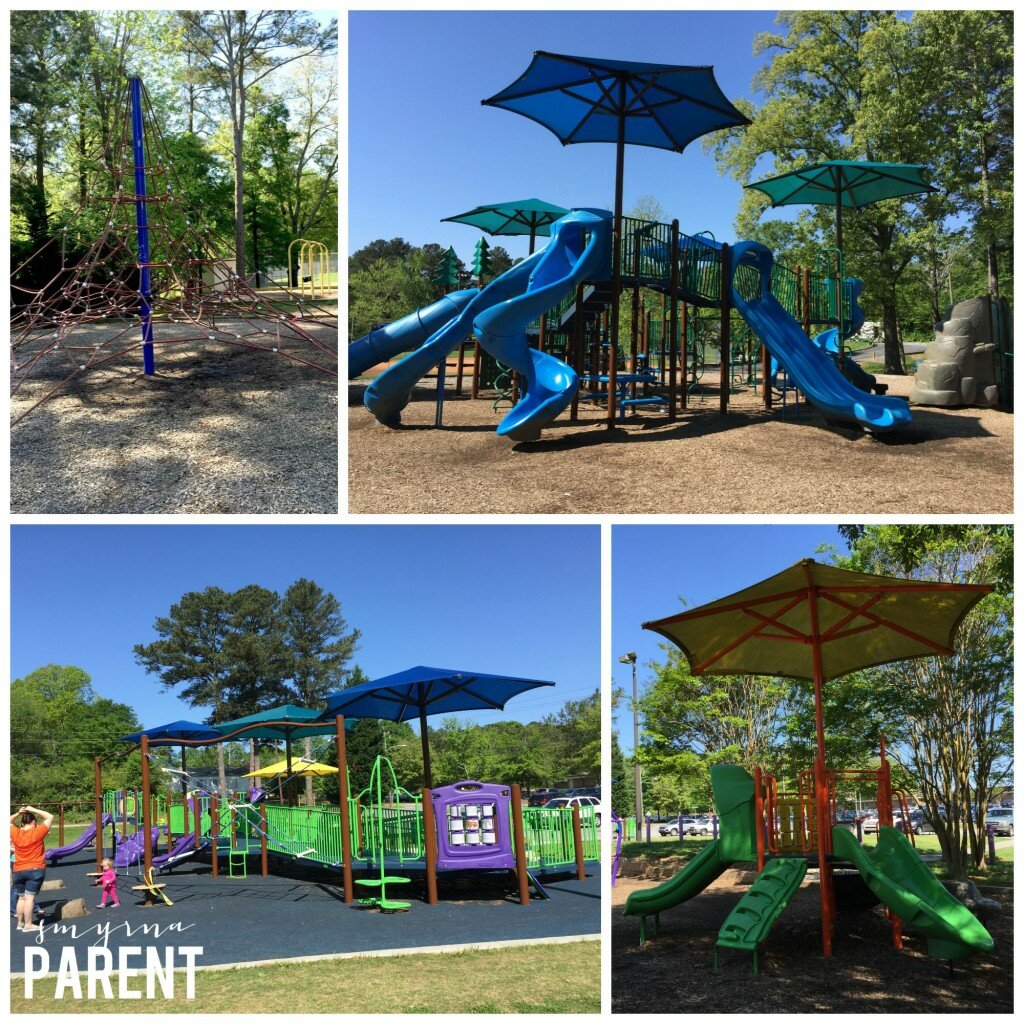 Cobb Park (Kidscape Village I & II) was my winner simply because it has several different play structures for all ages and abilities – most of which were updated within the last 4 years. One of those playgrounds is fully wheelchair accessible and includes swings with additional support for those children who need it.
Whether your child wants to climb, hang, spin, swing, or slide there are multiple areas for them in this 5.8 acre park. Large umbrellas provide a bit of shade on the play structures for the kids, though the parents are mostly left out in the sun despite the many mature trees in the area. The toddler playground seems to get the best shade.
There is a pavilion with picnic tables and the restrooms are somewhat close, depending on where you are in the park (they're in the concession building near the baseball field).
As if that's not enough, there is a very small play area on the opposite side of the park (on Bank Street) that is for young toddlers. It has a playhouse, a variation on a merry go round, swings, small slides, and a "hive" climbing structure.
There are 2 potential downsides: first the park is open on 3 sides: to the parking lot on one side, and to low traffic roads on the other 2 sides. However, it's large enough that accidentally running out to the road is not really a problem. The other issue is that it is across the street from Campbell High School and when school lets out there is an influx of teens trying to sneak a cigarette before going home and releasing some pent up energy.
Address: 950 Powder Springs Street, Smyrna, GA 30080
Separate Playgrounds: 3 play structures (toddlers, 5+, and the wheelchair accessible one), 3 separate swing areas, multiple netted climbing areas, rock wall and train…and that's not including the additional playground on the far side of the park described above!
Ground: Mulch throughout most of the playground, rubber on the wheelchair accessible playground and swings.
Restroom: This is a huge park, so the ease of getting to the restroom completely depends on where you are.
Runner Up: Taylor Brawner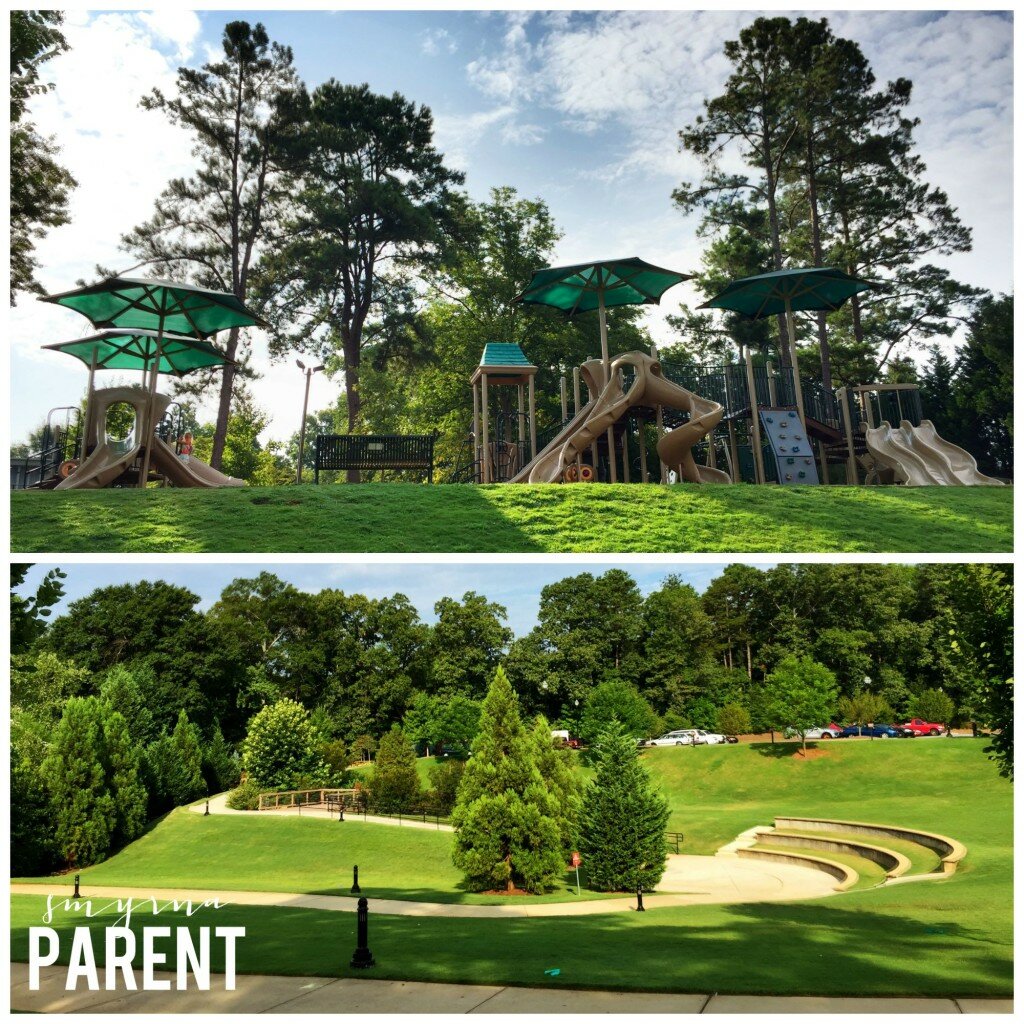 Taylor Brawner Park is along side the gorgeous Brawner Hall on Atlanta Road. As far as playgrounds go, this is the newest major park in Smyrna. It has 2 main play areas, one for toddlers and one for older kids. There is a swing set, a large and wonderful green space for running, hills for rolling, an amphitheater for chalk drawing and paved paths for enjoying wheeled toys. The entire park is 10 acres so there is ample green space. It is set well off of Atlanta Road and all of the areas mentioned above are within eyesight. The restroom is in Brawner Hall, so it can be quite a run from the playground, across the green space, up the hill and to the hall (can you tell I've done it before?), but it's cleaner than many others.
There is shade around the perimeter, but the playgrounds themselves are not very shaded. Like Cobb Park, there are (newish) very large umbrellas over the structure to help keep the kids from full sun. There is a pavilion with tables, and a gazebo area which has no tables, but is a nice picnic spot. It's also worth noting that the park is consistently the cleanest one we visit. Possibly because there are several city offices in neighboring Brawner Hall, but it's always well maintained. And of course it is home to several of Smyrna's favorite events: Food Truck Tuesdays and Movies by Moonlight, among others.
Address: 3180 Atlanta Road, Smyrna, GA 30080
Separate Playgrounds: 2 play structures (toddlers and 5+), swings
Ground: Mulch
Restroom: Further from the playground than most, bonus points for cleanliness
When You Need a Little Shade: Brinkley Park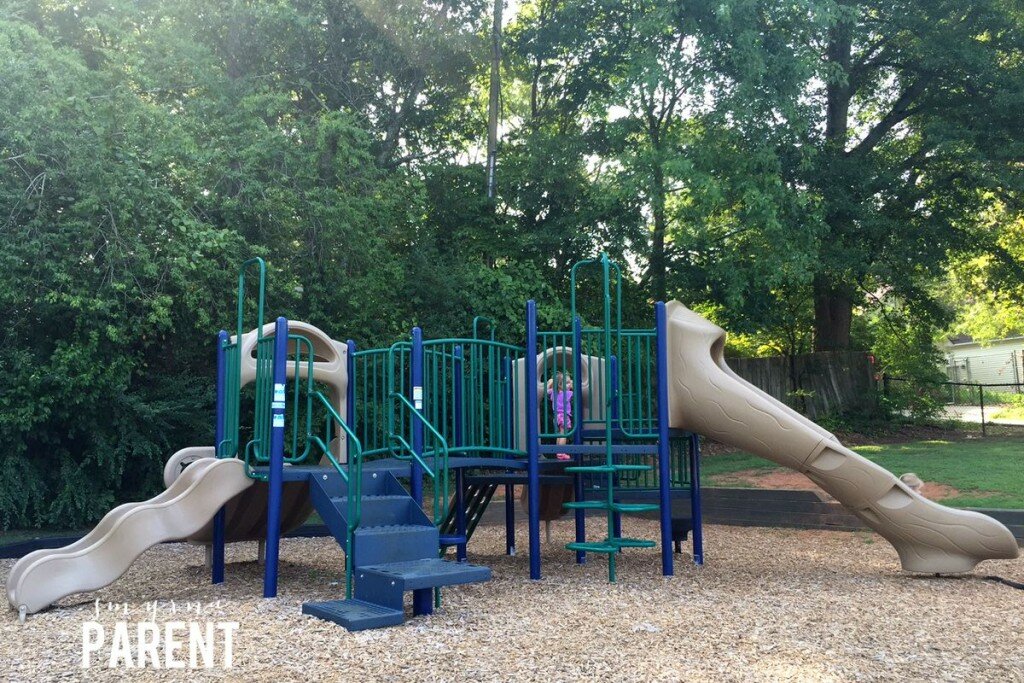 This was our first "new" playground for this post. This play structure is located in Brinkley Park (near the American Legion/McEntyre's) and the playground is definitely secondary to the baseball fields and batting cages, which is the primary purpose of this park. During games and practices, I'm sure it offers some fun for the younger siblings of the players, but outside of those times it is very quiet.
It's a single structure playground with your basic slides and multiple entry points. It's probably best suited for children 3 and under. In fact, my 4 year old, who goes to playgrounds for the express purpose of training for American Ninja Warrior was underwhelmed. My 2 year old enjoyed it though.
The biggest perk is that it was well shaded in the morning while we were there. We visited on a day where the heat index reached by mid 90s by 11am and this playground was noticeably cooler than Tolleson, where we went directly after.
Parking and the restroom are across a baseball field from the park, and there are several walking trails throughout this 16 acre park.
If you want some morning shade, a quiet experience, and a simple, basic play structure for a young toddler, this may be a nice alternative to Cobb Park or Taylor Brawner.
Address: 1270 Hunter Street, Smyrna, GA 30080
Separate Playgrounds: 1 play structures (toddlers)
Ground: Mulch
Restroom: Moderate distance
Most Divisive: Tolleson Park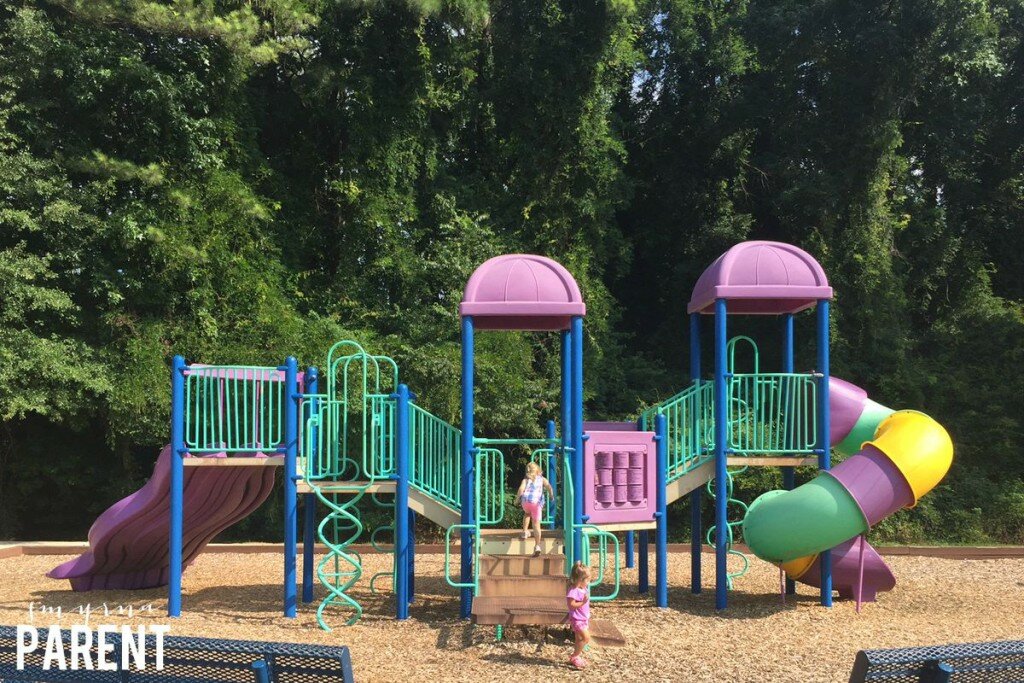 The playground of Tolleson can be found at the "back" of this large 26 acre park. You cannot access it from the pool area on King Springs, so you need to get to the back using side streets. It's a single structure playground but much bigger than Brinkley's and it also includes a swing area.
I'm calling this one most divisive because it's right next to a sand volleyball court that the kids can't seem to stay away from. Some parents embrace this and come equipped with shovels and other toys, while others cannot stand having a trip to the playground turn into a sandy mess.
This playground isn't shaded, but there is an enormous pavilion with picnic tables right next to the playground. Tolleson also has several walking trails which are newly paved so they're great for family bike rides. And of course there is the pool and water feature at the front of the park. In other words, you can really wear the kids out in one spot (though you have to drive from one side to the other).
The playground is right next to the parking lot, but there are no major roads nearby. The restrooms are in the large white stone building that is between the 2 baseball fields.
Address: 3590 King Springs Road, Smyrna, GA 30080
Separate Playgrounds: 1 play structure, swings, sand volleyball court
Ground: Mulch
Restroom: Moderate distance
For the Littlest Climbers: Train & Duck Pond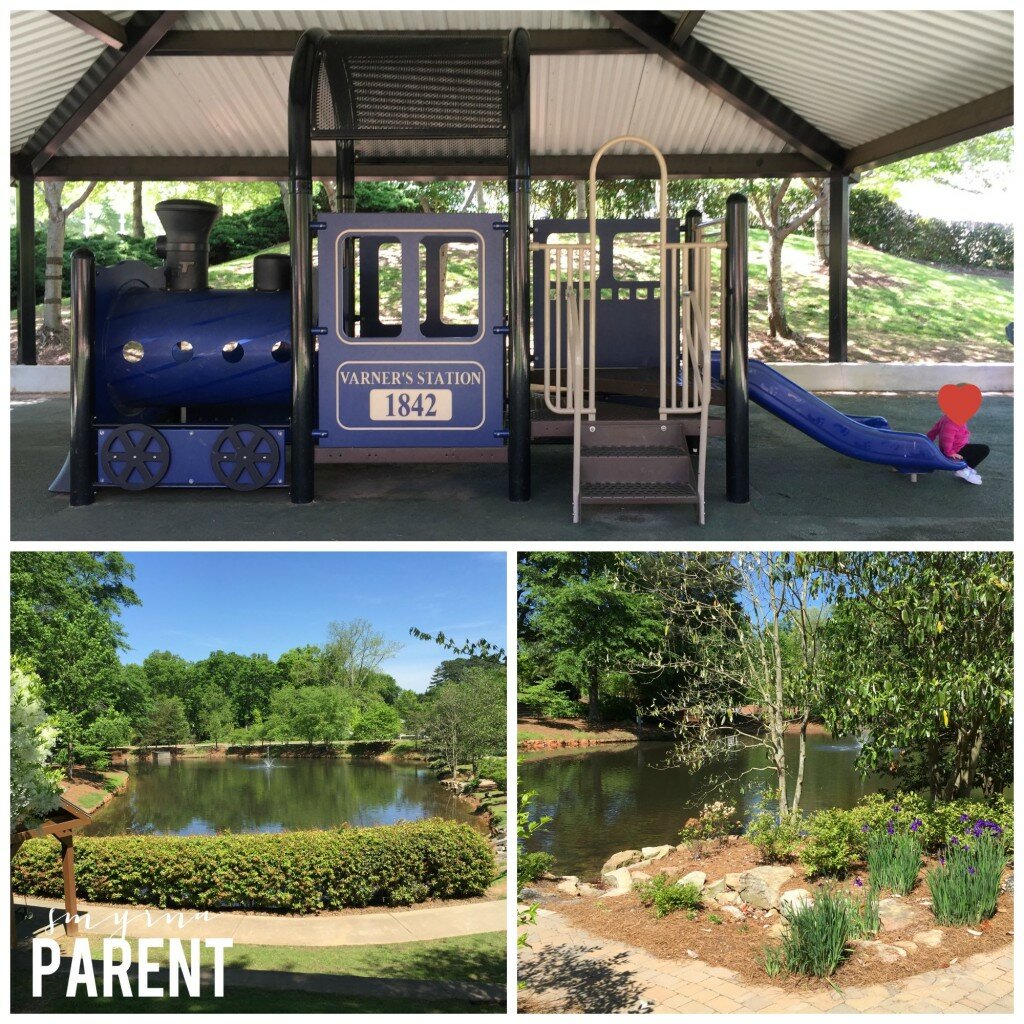 The entire area around the Smyrna Community Center and library is just perfect for crawlers and new walkers. While the train barely qualifies as a "playground" by most standards, this area will always be one of my favorites since it's where both my kids learned to navigate steps, slides & tunnels while still crawlers. The train is fully covered and the restroom is in the library – so while it's a walk, it's always clean.
There is also the duckpond, the library, and even the water fountain in the center of the circle for entertaining the kids in a really sweet and low key way. Of course, you're a short walk from Smyrna Market Village and the several restaurants there (including the new gelato shop) so you can easily fill an entire morning here.
Address: 200 Village Green, Smyrna, GA 30080
Separate Playgrounds: 1 – the little train
Ground: Rubber
Restroom: In the library or Community Center
For the Quieter Experience: Whitfield Park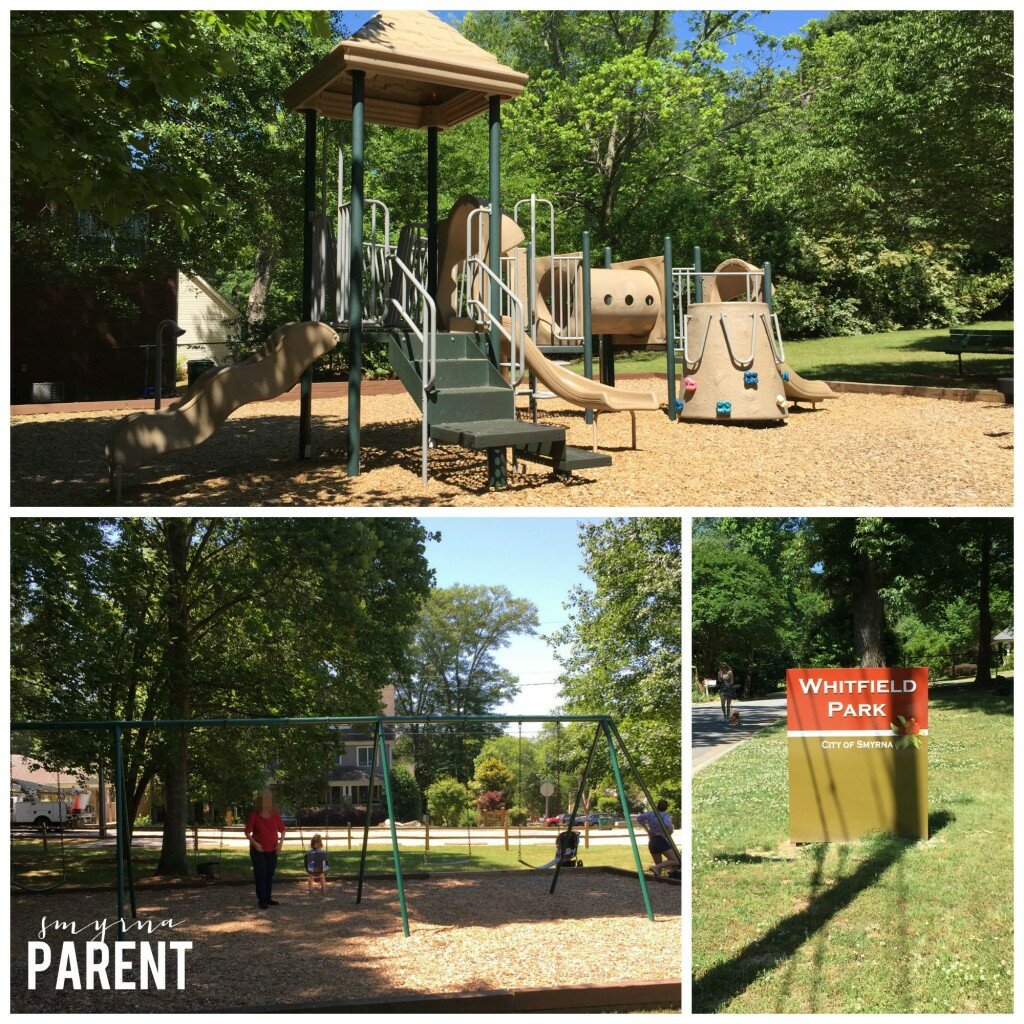 This neighborhood park is quieter than most of the others listed, but has a play structure, swing area, and covered pavilion. There's about 2 acres of green space for running around or kicking a ball. Some parts of the playground and benches are shaded, but it's mostly out in the open. The biggest drawback is that there is no restroom at this location. The park is fully enclosed on 3 sides, and the front (which opens to the street) has a wooden fence which won't completely stop a child from escaping, but will at least provides some protection from the road.
Address:1519 Whitfield Street, Smyrna, GA 30080
Separate Playgrounds: 1 play structure and swings
Ground: Mulch
Restroom: None
For Those Who Just Want to Swing: Askew Park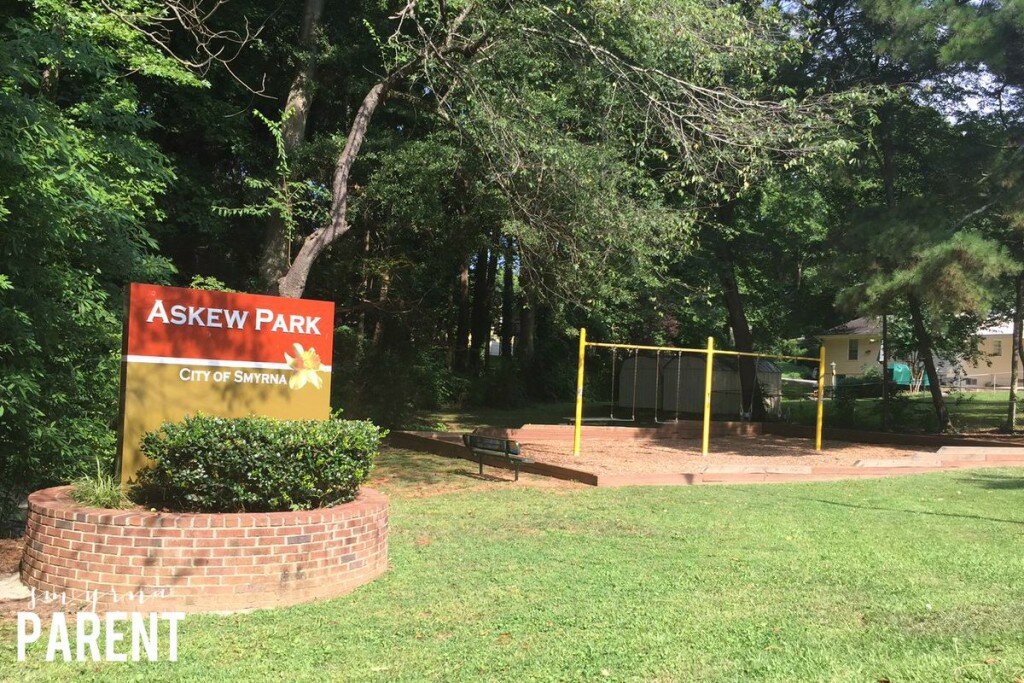 This one was not what we expected – mostly because there is no playground at this playground! There are swings and a picnic table and that's about it. This 0.5 acre park is probably mostly used by the immediate neighborhood, but if you ever find yourself near King Springs and feel like you just need to swing RIGHT NOW without any distractions, well, Askew is your park. There are no restrooms, but the park is surrounded by tall, mature trees, which does offer a bit of shade.
Address: Corner of Pinedale Drive and McCauley Road, Smyrna, GA 30080
Separate Playgrounds: None! Just swings.
Ground: Mulch
Restrooms: None
Do you have a favorite lesser-known playground? Let us know!
The following two tabs change content below. A New Orleans girl turned Georgia peach and stay at home mom to 2 daughters. Before taking the leap into full time mothering, I worked at at an Atlanta-based advertising agency. I have lived in Smyrna for almost 10 years and am still not sure how I managed to find a job more chaotic and unpredictable than advertising.